Find out more about newly appointed NHS England chief executive Simon Stevens from the HSJ archive, including all the columns he wrote for us from 2005-2012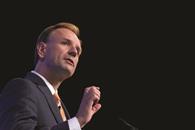 There will not be a single commissioning model across England over the next five years, with local authorities and accountable care organisations increasingly taking on these functions, Simon Stevens has said.

Risk transfer signals "years of ad hoc approaches"
The edited transcript of the speech given by Simon Stevens at the HSJ inaugural lecture.
Health reformers should paint an inspiring vision of what progress could mean for patients and for health professionals rather than focus on the negatives that have necessitated it, says Simon Stevens.
Big numbers being bandied about may come back to bite us

NHS spending promises could turn the tables on the two main parties

Wishful thining and acrimony from the parties

Naval gazing – a late lesson on how to steer a 45,000 tonne, state of the art monster in the right direction – and free spirits at Cambridgshire and Peterborough FT

The 'unmentionable'

Issues facing older people

A clinical commissioner's perspective

Ready for devolution

Stevens must make good on his learning disabilities promise

What does the "N" in "NHS" stand for?

Chancellor's 'historic day' raises questions

Their health wish list

It does apply to new care models

Health bureaucracy gets metaphysical

Patient safety expert's top toilet tip

The long and short of junior doctors' hours

Using people to power the NHS

The election fuels the fire

Key NHS players give their opinion on Stevens' plan

He's demanding politicians make their contribution