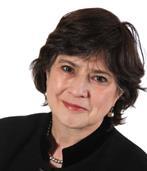 Lynne Berry
Charity chief exec and policy insider Lynne Berry is currently transforming volunteering stalwart WRVS into an organisation that helps older people get the support they need to live the way they want. Read her latest thinking on positive ageing and practical living. After all, it's your future too.
Recent activity
Blog Posts (16)
Preferred Provider - the saga continues

A step in the right direction

Preparing evidence for the DH's Co-Operation and Competition Panel

Charity Commission takes a stand on NHS charities' accounts article in Third sector
Lynne Berry contributes to:
Comments (0)
Lynne Berry has not added any comments yet.