The latest A&E performance figures show a small improvement across the hospital sector.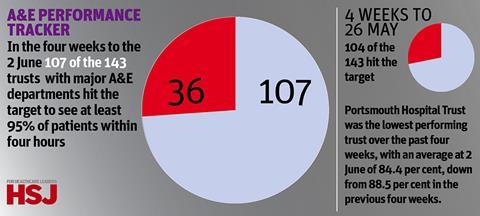 Emergency tracker to 2 June
The data from NHS England showed 107 of the 143 trusts in England with a type-one A&E department hitting the 95 per cent target, over the past four weeks.
Last week 104 trusts hit the target, which was an improvement on the previous week.
Week-on-week there was considerable volatility in trust performance.
Portsmouth Hospitals Trust's performance fell by 4.1 percentage points, from 88.5 per cent to 84.4 per cent.
James Paget University Hospital Trust' performance fell by 7.9 percentage points, from 98.3 per cent to 90.4 per cent.
By contast Mid Staffordshire Foundationn Trust's performance rose by 7.1 percent points, from 85.6 per cent to 92.7 per cent.