Clinical commissioning groups that take advantage of any qualified provider contracts for hearing loss screening are reaping the rewards, as are their patients. Sarah Jarvis explains how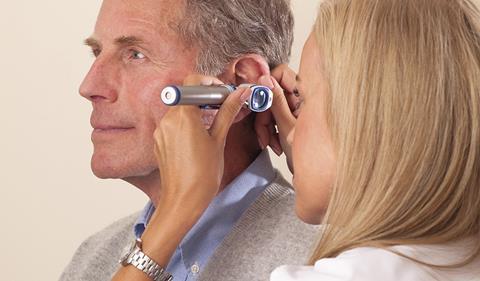 Hearing test
This article was part of the Audiology Today channel, in association with Specsavers Hearing Centres. The channel is no longer being updated.
There's an old Chinese curse which goes "may you live in interesting times".
Never have I understood that curse more than in the last decade of my 24 years as a GP when change upon change has been heaped upon me only to be superseded by more change before I've got to grips with the last one.
'Practising cost effective medicine was never my dream. I just wanted to make people better'
I've dreamt of becoming a GP since I was eight; it's all I've ever wanted to do.
Yet in all the times that my parents proudly dragged me out as the little girl who was going to be a doctor as their friends asked me "and why do you want to be a doctor Sarah?" not once was the answer "because I want to practise cost effective medicine".
That was never my dream. I just wanted to make people better.
Embracing change
But GPs are by no means averse to change on principle; when we can see tangible benefits for our patients, we embrace it.
These days, I spend many teaching sessions with my registrars discussing the apparent conflicts between their twin roles as patient advocates and guardians of the limited resources of the NHS.
Sometimes we can improve cost effectiveness and patient satisfaction at the same time without compromising quality of care.
From my experience greater choice of access to high quality services for age related hearing loss is a perfect example of such a win-win situation.
Within my clinical commissioning group, one of our top five "network plan" aims is "to ensure that all primary care referrals are to the most appropriate service first time, including alternative referral pathways that have developed in the community".
Our CCG is one of 110 that has taken advantage of one of the 28 any qualified provider contracts with Specsavers to provide audiology services to the NHS within the community.
At first I was sceptical. The benefits to patients in terms of convenience were clear: many of the patients I previously referred to the audiology clinic had limited mobility and were already attending other outpatient clinics.
Even with "choose and book" their relatives sometimes struggled to find a convenient time to take them to the hospital which meant waiting times could be long and hospital parking an issue.
With a high street alternative, patients and carers could book an appointment at their convenience, popping in with mum when they took her for her weekly shopping trip. But would the quality be the same? Would patients be pressured down the private route or given a more expensive alternative on the NHS at my CCG's expense?
Early intervention
My fears have proved entirely unfounded. When I looked at the figures, my initial concern about unleashing a flood of worried well demanding referral was completely allayed.
About 6.4 million people in the UK have age related hearing loss, which is severe or profound in 685,000 people. Only a small percentage of these patients are accessing hearing loss services.
Early screening for hearing loss for 55-74 year-olds, at a cost per quality adjusted life year gained of under £2,500, is highly cost effective.
Untreated hearing loss may increase the risk of falls among older patients three fold, social isolation, anxiety and depression and even dementia.
Far from bankrupting my CCG, an initiative to increase early screening and treatment and possibly reduce falls and dementia might help us meet another of our network plan targets, reducing the number of avoidable unscheduled admissions.
As for quality, the AQP assurance process testing the provider's fitness to practice, along with the fixed price determined by national or local tariff, reassured me that the service would be of the same quality, cost and standard in a community based service as that offered by my hospital audiology.
'Treating age related hearing loss effectively improves quality of life and co-morbidities and a greater take-up of this underutilised service'
The level of convenience my patients have reported is far greater. They have been vocal in their satisfaction with a choice of services which allows them greater flexibility in where and when to attend.
They have not been pressured down the private route and I have even had patients who were considering private hearing aids being advised to consider all the NHS options first.
The majority have had their hearing aids fitted at the time of assessment and several have reported that getting their hearing checked feels more "normal" than it did when they had to attend hospital.
Treating age related hearing loss effectively improves quality of life and co-morbidities, and if greater choice means greater take-up of this underutilised service, I say bring it on.
Dr Sarah Jarvis is a medical writer, BBC broadcaster and member of the Royal College of GPs