Communities can connect with local projects thanks to free technology such as Google Maps, writes Birmingham University's knowledge transfer associate Tom Lawrence.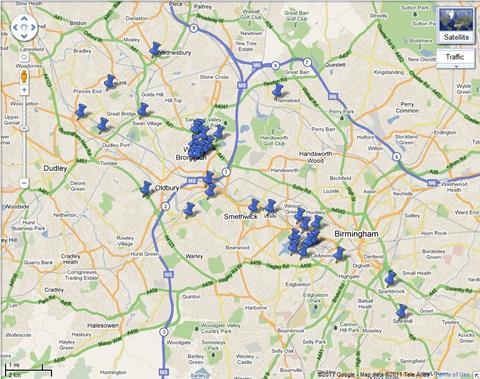 Sandwell and west Birmingham are two areas of significant deprivation going through major regeneration programmes, with developments including a new hospital, new community clinics, and regeneration in town centres.
A key organisation involved with the regeneration work is the Right Care Right Here programme, an ambitious project designed to change the way health and social care is delivered in the Sandwell and Heart of Birmingham primary care trust areas.
The programme is a partnership of eight statutory organisations; Sandwell PCT, Heart of Birmingham Teaching PCT, Sandwell and West Birmingham Hospitals Trust (including Sandwell Community Healthcare Services), Sandwell Metropolitan Borough Council, Birmingham City Council, Birmingham and Solihull Mental Health Foundation Trust, Black Country Partnership Foundation Trust and Birmingham Community Healthcare Trust.
Right Care Right Here is committed to improving health and the quality of health and social care services by:
delivering a new specialist hospital in Smethwick;
bringing more health services to local community settings, so that elements of healthcare are closer to home;
ensuring that people have the opportunity to benefit from healthier lifestyles;
ensuring all health services meet the specific needs of local people.
The focus point for achieving this is the new specialist hospital in Smethwick for Sandwell and West Birmingham Hospitals Trust. The programme has also pledged to create jobs, bring in £750m of investment to the local area and provide health services from buildings which are accessible by foot, bicycle and public transport.
Another major consideration is coordinating with other regeneration work taking place across a variety of agencies and ensuring the public are fully informed. The premise is to ensure the impact of joint efforts achieves much more than single organisations can, especially as these organisations' objectives, including getting local people into jobs to improve economic wellbeing, and promoting healthy food and lifestyles choices, are so similar.
One of the main problems was the lack of shared information between organisations. There was a willingness to share information but not a particularly suitable way to achieve this. This caused problems as councils, PCTs and other organisations lacked knowledge about regeneration work outside of their area.
Commissioned by Right Care Right Here to develop a tool to track regional regeneration, I devised an online map to achieve a shared and standard platform to preview all of the regeneration work taking place in Sandwell and Heart of Birmingham.
Plotting a course
The map was created using Google Maps, which is free for non-commercial use. The idea for using this software came after seeing a flu shot finder that allowed people in the US to find locations where swine and seasonal flu vaccinations were available. It seemed a simple and useful way of sharing information.
The interactive map plotted where the work was taking place, a picture of how the area would look when the work was completed, a brief description of what work was taking place, details of the lead on the project and links to further information. All of the information uploaded was public facing so local organisations could integrate the interactive map on to various community websites.
The most difficult part of this piece of work was obtaining the most up to date information from partners, but once the usefulness of the tool became apparent the information was very forthcoming.
The feedback for the mapping work has been extremely positive and partners have been impressed by the effectiveness and simplicity. The interactive mapping has allowed for the first time all the regional regeneration work to sit together and be updated live. Also organisations understand what regeneration work is happening across organisational and political borders. The other main benefit has been the ability for information to be updated quickly and easily. Organisations are responsible for updating their own content, the intention being that they take ownership and keep the information fresh and relevant. This also avoids an expensive bureaucratic centralised approach.
The public now have a map they can navigate to show them what is happening in their immediate neighbourhoods and regionally. The mapping has already had more than 3,000 views, evidence that the work has been of interest not just to policy makers but the community. Several regional organisations have expressed an interest in using the mapping on their websites.
This approach is transferable to other local health economies that need to share information and encourages joint partnership. In theory there are no limits to its application in pulling information together from a variety of sources, with the ability for all to access and see in real time. l
Find out more