How can trusts put intensive care plans in place this winter with a swine flu pandemic looming, asks Jennifer Taylor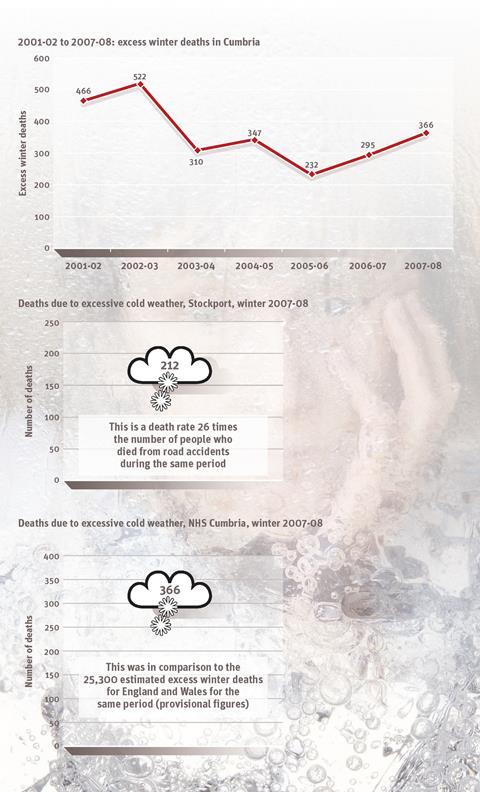 How to plan for cold weather with a swine flu pandemic looming
Managing fluctuating demand and capacity for the NHS is part of normal working activity, especially during winter months. But the Department of Health admits that "a worst case scenario pandemic will create significantly greater demands on the health service than even a severe flu season".
This is why it has issued guidance to the NHS on managing demand and capacity. It has also published a set of tools for frontline clinicians to use in the event of a swine flu pandemic.
212 - Number of deaths from excessive cold weather in Stockport, 2007-08 - 26 times higher than the road accident death rate
Plans for critical care capacity if a pandemic does strike include the recognition that some routine intensive care services will have to be suspended in that period.
The number of intensive care beds per head of the population in the UK is lower than most other countries in Europe. "Ideally we would like to have something like four to five times the existing capacity but there's no way that will be achievable," says Bruce Taylor, honorary secretary of the Intensive Care Society and a consultant in intensive care medicine at Portsmouth Hospitals Trust.
If a pandemic strikes this winter, patients will "be prioritised on the grounds of who is most likely to benefit", he adds. "It would not be ethically reasonable or acceptable to treat a group of patients differently because they happen to have H1N1 or have a cold weather related illness."
Trusts can prepare for the predicted shortage of beds this winter by making sure staff know what they may have to do, which could include withdrawing care from patients who are not benefiting in order to treat a patient who is more likely to benefit.
On the prevention side, trusts can maximise their efforts by collecting data through clinical audit and from the coroner that reveals what is causing their excess deaths. Data collected in Cumbria shows that excess winter deaths occur in the over-75s and are due to respiratory and cardiac conditions.
Kill the Chill
"I think a lot of PCTs probably don't have the data readily to hand as to how many excess winter deaths they have," says Professor John Ashton, chair of the UK Public Health Association and NHS Cumbria's director of public health.
"The problem is that the data that drives the NHS is financial data and internal performance management data, and that the NHS doesn't invest properly in public health intelligence."
Trusts also need trained communications staff who systematically use the media to communicate public health messages, such as cold conditions, at the appropriate time each year.
In 2007-08 there were 25,300 excess winter deaths in England and Wales, primarily caused by cardiovascular disease and respiratory disease.
Integrated winter planning, with all organisations working to a common script, is the key to preventing excess winter deaths, says Dr Frank Atherton, president of the Association of Directors of Public Health and director of public health at North Lancashire PCT. Plans need to include flu, bed numbers, home warming advice and so on.
Stockport Council joined up with the PCT, acute trust, Age Concern and local newspapers to combat fuel poverty under the banner "Kill the Chill". In the campaign, staff who visit people in their homes - such as district nurses and social workers - were trained to look for symptoms that people are suffering from the cold and then inform them of services available.
Having a banner under which all organisations operate will help get messages out, regardless of what happens with swine flu.
Ian Ratcliffe, head of marketing and communications at Stockport Council and head of communications for the Greater Manchester Health Commission, says: "We found that there were already a lot of excellent services in the region [and] a lot of these things work better together."