NHS West Kent has taken a fresh approach to funding requests that places greater emphasis on involving patients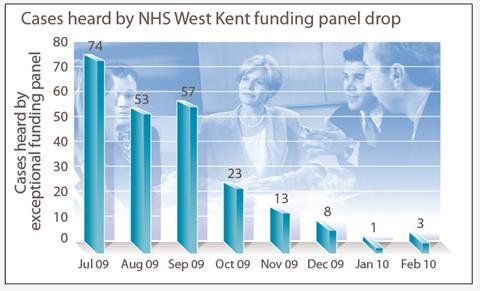 Individual funding requests: from counting beans to patients
Making funding decisions, where existing guidance and policy does not cover the proposed treatment, can be fraught with difficulties. Patients faced with what they might see as their last chance for survival or a few more months spent with family can find NHS decision making processes hard to fathom. Even experienced clinicians can have difficulty accepting the need to make difficult choices over the use of limited resources.
NHS West Kent has recently experienced several cases that damaged its public reputation. Patients and carers, angered by what they saw as a heartless bureaucracy that placed more importance on money than life, provoked significant and widespread criticism of the primary care trust's decision making process and the way it communicated with those involved.
When Sheila Norrington sought funding in June 2008 for cancer drug Cetuximab her rejection received widespread local and national media coverage criticising the PCT. It was also apparent that many funding decisions were being appealed, suggesting the process could be improved.
Circumventing policy
It was clear that the panel set up to make these decisions was hearing cases that should not have been considered on an individual basis. Applications sometimes sought to circumvent existing commissioning policies. The panel also found itself discussing treatments not rare and exceptional but where commissioning policies had not been finalised. Decisions were required on 70-100 cases a month.
As a result, NHS West Kent began to review its existing policies and local and national best practice.
Clinicians, managers and members of the public worked together to create a system for individual funding requests that is open, accessible and fair. The result is not just a new policy but a new approach to engaging with patients and clinicians applying for funding for rare or exceptional treatments.
At this point, the South East Coast strategic health authority's policy support unit also began looking at exceptional funding across its area, which led to the obviously complimentary step of combining forces with NHS West Kent to examine the issue.
The support unit reported on its studies in the middle of June 2009, recommending policy and operating procedure for South East Coast PCTs to consider. NHS West Kent adopted these proposals as the basis for its policy, but also including elements of its own research in one important area - that of patient advocacy.
The PCT also enlisted Goff Norrington, whose wife Sheila's case had been a catalyst for the change. Mr Norrington had been a leading critic of the PCT, which made his support and involvement in developing the new policy even more valuable.
Giving patients the chance to be directly involved in their cases is an important part of the new policy. Patients will have the choice to be represented, either by themselves, their clinician or another person they choose. The patient or representative is allowed 10 minutes at the panel meeting to present their case, followed by an opportunity for the panel to ask questions.
Good communication is also crucial. Under the previous policy, the panel communicated in writing and only with the patient's clinician, leaving some patients feeling shut out. An information pack has been developed for patients and their families, providing guidance on the funding process and policy.
Patients will also receive support from the PCT's customer services team throughout the process. A member of the public will sit on every panel, helping to undermine the image of bean-counters making decisions behind closed doors.
An online application system allows patients and clinicians to track their cases in real time as they progress.
An equally important change in the policy redefines individual funding requests. The process had been used incorrectly as a convenient means of deciding on cases for which no commissioning policy existed but for which a small population of patients needed regular provision.
The new policy sets out the need for timely commissioning for these patient groups, who are not unique or exceptional, but whose needs are not catered for.
Since September 2009, cases are "triaged" to consider whether they fall within an existing commissioning policy, covered by another PCT policy or process or whether they amount to a service development and therefore require a dedicated policy. The majority of cases can be dealt with like this, as illustrated by a sharp decrease in the number that go before a panel. There were 74 in July 2009, but only eight in December 2009.
'More Inclusive and widely informed'
The first case to be dealt with under NHS West Kent's new exceptional funding system concerned a woman seeking funding for specialist eye drops for chronic pain in one eye.
Stephen Sykes, a lay member attending the panel, said: "The professional members of the panel greatly benefited from meeting the person who would otherwise have remained entirely anonymous. It was evident that she provided useful additional clarification of her condition and history, despite the extensive notes already provided. Such a meeting provides comfort to the patient that he or she is not just a statistic in a large bureaucratic machine but is treated sympathetically and individually."
The application was not supported as the treatment was not likely to be appropriate, but the panel was concerned that the patient seek further advice.
Rachel Cutler, a second lay member, said the process was "more inclusive and more widely informed", which can only improve the decision making process.
Top tips
Consider what your individual funding request process does and what it should do - is it being misused as a "sticking plaster" for areas where no policy exists?
Work with partner primary care trusts and strategic health authorities. A consistent approach minimises accusations of postcode lotteries and maximises chances to share best practice.
Engage your critics; they will have invaluable insights.
Consider the spirit of openness when developing policies - patient advocacy, plain communication, support from customer services and appointing lay panel members all reduce potential areas of conflict.
Increasing transparency helps patients, clinicians and the public understand and accept the decisions that are made.
Ensure training is available for panel members - facing the patient and discussing sometimes life and death decisions can be daunting at first, but overcome by good training.
In trying to introduce patient participation and advocacy, you may meet with resistance from a variety of sources; try asking the question: "Why would you not want to involve patients in their healthcare decisions?"