A call to action in the North West for a new dimension of public health thinking places 'wellness' of the individual at its heart. Dr Ruth Hussey and Jude Stansfield explain.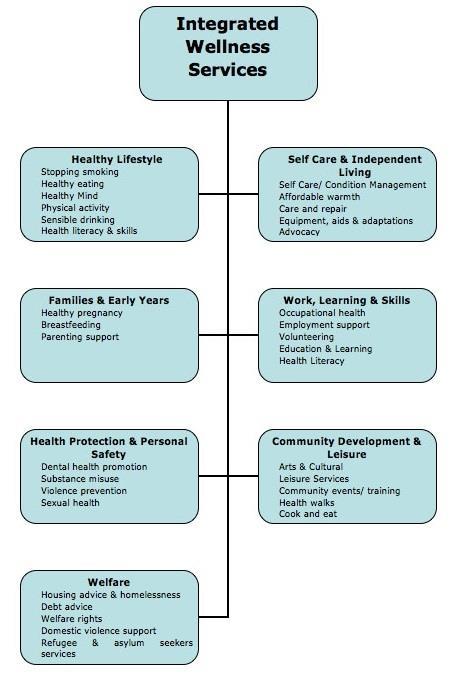 Proposed new approaches to public health provide a rare opportunity to create a sea change in the way we view health - from illness to wellness.
Are we really aware of what could be achieved in this new world in terms of a truly people centred approach that focuses on wellbeing? It's possible that many colleagues, who are understandably focused on the change process, may not have had the opportunity to consider its full potential.
In the North West, we have been exploring what the wellness approach would look like as part of a new wave of public health. We took up the challenge, working alongside the team that produced the Marmot review into public health, and published a call to action document, Living Well: prioritising wellbeing to reduce inequalities.
The creation of a new public health service with local authorities and the reconfiguration of community health services are providing an opportunity to develop integrated and holistic wellness services. The time is right for a new approach to support people in living well that goes beyond the traditional availability of single-issue healthy lifestyle services and a focus on illness, rather than wellness.
The strategy for public health in England, Healthy Lives, Healthy People, places increased emphasis on tackling both physical and mental health as part of healthy lifestyles. Factors of self-esteem, confidence, resilience, social networks and sense of control are all seen as key to decision making and the ability to lead healthy lives and maintain wellbeing.
Increasing control is also a priority within the Marmot Review, which holds a vision of "creating the conditions for individuals to take control of their own lives" and puts prevention in the context of the social determinants of health. Thus, individual responsibility for health is achieved through individual and community empowerment and proportionate availability of prevention services.
The North West Living Well document is a regional response to Marmot and a call to action to prioritise wellbeing in order to reduce inequalities. The living well concept focuses on creating the conditions that support wellbeing.
It calls for new approaches to address the background causes of good health and a focus on how people feel and function as central to individual change.
Research in the North West also shows that people with high levels of wellbeing are much more likely to be able to make sustainable lifestyle changes, be in good health, manage and recover from illness sooner and use health services better than those with poor levels of wellbeing.
Partnership approach
Traditional lifestyle services have often been provided separately, making it difficult for patients to navigate between. This is especially so for those with complex needs where support on a number of health issues is needed.
Wellness services have potential to provide a holistic and seamless service - to create easier and consistent pathways for patient and referrer rather than going between different services for different aspects of their health.
A broader wellbeing focus to a wellness service might provide holistic assessment at the point of access and generic interventions that address psycho-social determinants. There is a clear need to have a stronger focus on enhancing sense of control, coherence, self-efficacy, motivation, self determination and social skills.
A good level of wellbeing is needed before any individual can start to make healthy choices and changes. Specific interventions would focus on a whole range of factors that influence a person's ability to live healthy and well - see diagram: healthy lifestyle; self care and independent living; family support; work and learning; personal health protection and safety; welfare; and community development and leisure.
A partnership approach is therefore needed if wellness services are to be effective in providing quality services and in addressing inequalities. The health and wellbeing board is ideally placed to support joint and integrated approaches for this across the local authority, commissioning consortia, NHS trusts, voluntary and independent providers and local communities.
Neighbourhood level
The public health white paper's emphasis on health as a positive sense of wellbeing and not merely the absence of illness will be demonstrated through the board's joint health and wellbeing strategy and the type of services available locally.
The role of community members in contributing to the provision of such services is fundamental to a new living well approach of empowerment and building community assets and resilience. The "big society" approach can involve more appropriate forms of support being available at a neighbourhood level, people coming together to provide their own services and people more involved in what services are needed.
Understanding and building on the health assets of people and communities is fundamental to the new approach of focusing on health as wellness rather than illness and deficits.
Likewise the development of community oriented primary care and health promoting organisations are the key shifts needed within the delivery system to implement the white paper and support the wellness approach and make every contact with the public an opportunity to address health and wellbeing.
Building momentum for change also involves increasing the significance of personal health to people's lives and the ability to sustain good health. For many, this is a challenge and the availability of good information and appropriate support will enable us all to look after our own health, participate in improving our community's wellbeing and remove the barriers to living well.
Many localities have already started to shape a new wellness service with examples of integration, as outlined in the diagram.
The Liverpool Public Health Observatory has published a review of wellness services, commissioned by the Cheshire and Merseyside Public Health Network to support the development of local models (see box, below). The report draws on learning from existing holistic services such as well women centres, Jobcentre Plus condition management programmes, partnerships for older people projects, social prescribing, health trainers, occupational therapy and psychological wellbeing interventions.
Find out more:
CASE STUDY
Within Halton and St Helens a partnership between GPs and the Citizens Advice Bureau provides support to patients on issues to do with debt, employment, benefits and housing. It resulted in 38 per cent of patients having their mental health intervention stepped down.
Within the Wirral Health Action Area health trainers, community health development workers and lifestyle advisers provide a range of physical and mental health activities and support. The partnership approach also includes employability programmes that seek to improve health and wellbeing alongside employment skills and support. The community programme was cost effective, with a cost per client of £32.75 and cost per quality adjusted life year of around £16,000.
Within Knowsley the proposed one-stop-shop for lifestyle services is based on people needing generic behaviour change support (assess current status, set goals, set out plans, access support and keep them motivated and informed) and not necessarily needing specialist topic based skills at all stages.
The historic target focus on individual behaviours was felt to be a barrier to taking a person-centred approach, especially when working in deprived areas where each service potentially targets the same people (such as the person who smokes, drinks heavily and is inactive). The Knowsley model also includes social care partnerships through including independent living services such as aids and adaptations.
Wellbeing Sefton is a pilot programme offering one-to-one consultations using a life balance assessment and provision of support on housing, debt, welfare issues as well as weight management, anxiety and broader social prescribing for mental wellbeing, bibliotherapy, arts, Citizens Advice, exercise, volunteering and green gyms. There is a single telephone number for access and information.
The St Peters Centre in Burnley is a combined leisure and primary care centre providing a holistic one stop shop and quicker direct access to specific services such as exercise on prescription or smoking cessation. This demonstrates a good partnership between sectors to achieving local outcomes.
Salford is working up a radical redesign of its lifestyle services to unify them into a single way to wellbeing service. This will integrate health improvement, work and skills and neighbourhood teams and incorporate community based activities alongside public sector interventions.
The holistic approach will ensure people's health issues are dealt with in the context of the wider social context in which they arise, and also that common approaches and skill sets apparent in the variety of services covered by the work are managed more effectively.
Source: Wellness services - evidence based review and examples of good practice - Liverpool Public Health Observatory.