A group led by the Royal College of Surgeons has studied the benefits to patients and managers of a regionalised response to major injury. Helen Mooney reports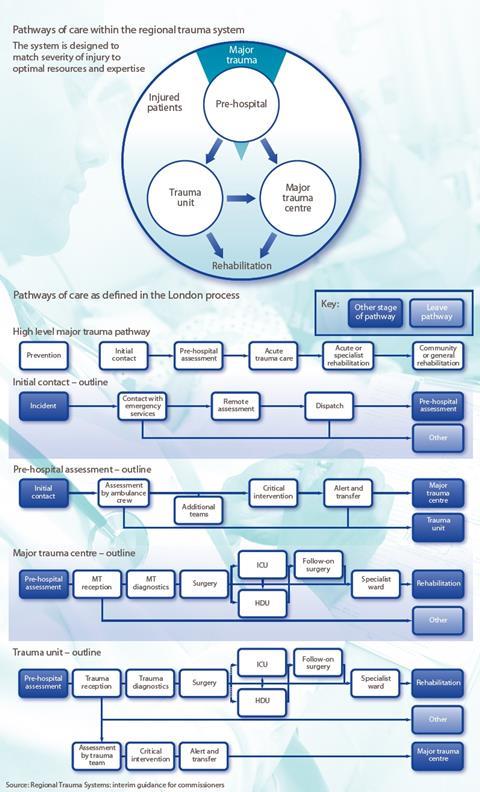 Major injury: how regional units take the crisis out of trauma
In the UK trauma is a leading cause of death across all age groups, with more than 16,000 deaths due to injury in England and Wales each year. Trauma is one of the few disease categories where mortality is rising.
At the moment if you get injured it is a lottery as to what care you receive
The annual cost to the NHS of treating trauma injuries is currently estimated at £1.6bn, about 7 per cent of its total annual budget.
The report Regional Trauma Systems: interim guidance for commissioners by the intercollegiate group on trauma, led by the Royal College of Surgeons makes a series of recommendations about how trauma systems in the NHS can be restructured to reduce the level of death and disability caused by trauma.
The goal, it says, is for the NHS to develop regional trauma systems which maximise the specialist care received by trauma patients to prevent them from dying and rehabilitate them to the extent that they can re-enter society functioning as fully as possible.
It says: "Trauma patients' lives are saved by immediate pre-hospital interventions and then transfer to specialist surgical facilities where bleeding can be controlled, traumatic brain injury managed and specialist critical care instituted."
According to the report the trauma chain of survival depends on an "optimised pathway that includes care, emergency departments, specialist operating teams and critical care facilities". The chain then continues into a phase of reconstruction, in which injuries are repaired and rebuilt, followed by rehabilitation and reintegration into society.
Priorities include:
identifying major trauma patients at the scene of the incident who are at risk of death or disability;
immediate interventions to allow safe transport;
rapid dispatch to major trauma centres for surgical management and critical care;
coordinated specialist reconstruction;
targeted rehabilitation and repatriation.
Reduced mortality
The Royal College of Surgeons report recommends that the best regional trauma systems will deliver optimal trauma care to a population on a public health model.
A regional trauma system serves a defined population to reduce death and disability following injury. The trauma system includes public health, injury prevention, emergency medical services, all trauma-receiving hospitals, major trauma centres, rehabilitation services, research, education and systems governance.
The trauma system optimises the use of resources, so a trauma patient is treated in the right place at the right time by the right specialists. Major trauma patients are treated at major trauma centres, while others are treated at trauma units.
According to the report this will require the "optimisation of pre-hospital triage, bypass protocols, development of trauma unit emergency management protocols and rapid inter-hospital major trauma centre transfer capability".
Acute rehabilitation services should also be set up as well as "repatriation pathways", which allows for targeted rehabilitation in trauma units or dedicated rehabilitation facilities close to the patient's home.
Report author Karim Brohi is professor of trauma sciences at Barts and the London Trust Queen Mary School of Medicine and Dentistry and a consultant vascular surgeon at the trust. He says the need for change in NHS trauma services is now "pretty well established".
"This report attempts to describe what a trauma system actually looks like and encourages commissioners to investigate the service they have in their region and then put pathways in place for optimising patient care," says Professor Brohi.
He says it is important for the NHS on a regional level to map the process of trauma care to ensure it is constantly monitored, audited and evaluated, so that there is good governance in trauma care.
"All the components need to be brought together in acute care with reconstruction and rehabilitation. A lot of this is about good data collection, knowing where patients are and what is happening to them. At the moment if you get injured it is a lottery as to what care you receive… this is really about joining up the system," he says.
Regionalisation of care to specialist trauma units reduces mortality by 25 per cent and length of stay by four days; and high volume trauma units reduce death from major injury by up to 50 per cent. Major trauma patients managed initially in local hospitals are 1.5 to five times more likely to die than patients transported directly to trauma centres.
The report recommendations make for interesting reading and could help to give commissioners the push they need to assess and then change their trauma facilities.