Steve Onyett describes five principles for leadership in troubled times, but warns that initiatives are meaningless if they don't bring about improvement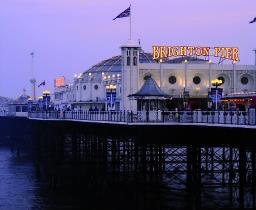 Is your leadership plan like Brighton pier – attractive but going nowhere?
Debates about leadership and developing leaders are sterile and meaningless unless they are linked in some discernible way to things getting better. The challenge is made more urgent by financial constraints, structural changes and personal insecurity and uncertainty.
It is difficult to justify leadership initiatives unless we see improvement as a result. Leadership development must be linked to context. But too often there is simply a retreat into yet more competency frameworks. Dr John Alban-Metcalfe - paraphrasing Neil Kinnock - says competencies are "like Brighton pier, very fine in their own way, but no way of getting to France".
Instead, we need general principles for leadership that can be applied to any situation.
Add value
It is crucial that leadership leads to improvements that add value for those using services.
Value and quality are not in tension with the need to do more with less. On the contrary, the imperative to create systems where end users can easily and speedily draw what they need from service systems is made all the more acute. When your back is against the wall, new depths of creativity, collaboration and ingenuity need to be mined.
Leading organisations, such as the King's Fund and the National Endowment for Science, Technology and the Arts, have argued for eschewing the sort of command and control regimes where practitioners and middle managers direct their ingenuity to reporting on activity targets. Instead they should work from their deeply held desire to do their best for the people they came into this work to serve.
Our desire to contribute is a basic human need, and there is a wealth of wisdom and experience to draw upon about how to add value through service redesign. This can be informed by effective accountability to end users.
Understand the systems
Moving away from command and control means recognising the messy and uncontrollable nature of human systems, where everything is interdependent and the only way you can find out where you stand is by trying something out and seeing what happens - albeit within frameworks that help capture learning and promote the exercise of the right level of risk.
Understanding systems also means recognising how pathetic mechanisms such as coercion and control are when you have the power of people's intrinsic motivation to draw on.
Focus on social meaning
Leadership theorist James MacGregor Burns defined transformation as that which turns followers into leaders and leaders into moral agents. It is what happens when people elevate each other into a higher level of motivation and morality, and is inextricably linked with the social meaning that people attach to their work.
An effective leader helps everyone see the importance of the role they play in achieving higher aims. Balancing the books in the back room to ensure organisational sustainability is as much a part of the project as the clinician front of house offering personal support.
Psychologist Barry Schwartz has highlighted how rules and incentives can obstruct people operating from their intrinsic desire to do good - which most of us would recognise as compassion based on simple virtue. We need to win hearts along with heads through stories that reflect the experiences of those that we are here to serve and good data on how we are achieving our causes.
Build social capital
People learn better in a positive emotional climate and this leads to concrete positive outcomes in productivity and morale. Being "transformational" is not about turning everything over and starting again. Sustainable improvement requires exploring what is already working well, celebrating it and promoting pride in achievements.
Social capital is also developed where people feel cared for. The best research on public sector leadership highlights an engaging leadership style that demonstrates authentic personal concern for those being line managed as being most strongly linked to positive outcomes.
Working appreciatively builds sustainable relationships from top to bottom and out into communities.
Make creative space
Finally, leaders need to create convivial spaces for relating, thinking and connecting - not only with the in-crowd but with the ever expanding range of people with a stake in the important work ahead.
This is the bedrock of committed action. As Nancy Kline puts it: "Everything we do depends for its quality on the thinking we do first. Our thinking depends on the quality of our attention for each other."
Steve Onyett is a solution focused coach and consultant, leadership development associate for the King's Fund, and senior development consultant with the South West Development Centre.