Training, systems and process design help all health team members prioritise safe patient care, says Stuart Shepherd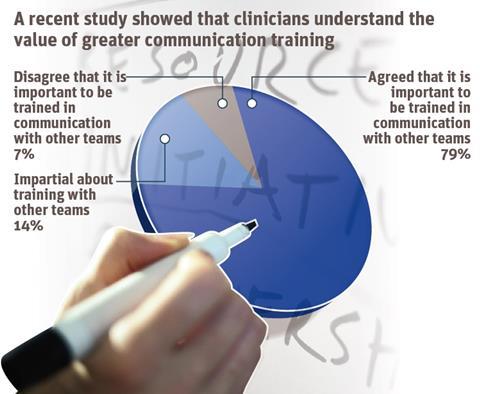 Patient safety: how to connect with its human side
Programme 100 computers to carry out the same task and it will be carried out the same way 100 times. Ask 100 people or clinicians, however, and most likely you will get 100 different outcomes.
"Human factors are what give you such variation in the results," says airline pilot and temporary chair of the Clinical Human Factors Group Martin Bromiley, who worked with Patient Safety First to produce the campaign's recent "How to" guide Implementing Human Factors In Healthcare.
79% - Clinicians who agree that it is important to be trained in communication with other teams
"At their most straightforward human factors break down into two categories - ergonomics and human interaction," he says. "The different outcomes and potential for compromises of safety in healthcare come from the way managers and clinicians interact with equipment, how they communicate with each other and all the things that can influence that."
Mr Bromiley's wife Elaine died in 2005 as a direct result of clinical errors (see box).
Implementing Human Factors In Healthcare outlines the impact human factors can have on patient safety. It also demonstrates the benefits and puts forward two distinct but integrated routes to increasing awareness and making changes - in organisational management and at the front line.
"In all other industries that have made real advances in ensuring a good safety culture, the senior management drive from the top has been identified as one of the core factors," says independent safety consultant Jane Carthey, whom Patient Safety First commissioned to co-author the guide.
Interventions promoted by Patient Safety First, such as leadership walk rounds, are a visible and structured means of showing senior management commitment, she believes.
Ms Carthey continues: "The medical hierarchy and the lack of encouragement to question senior colleagues are significant. If there is one thing that healthcare can do to advance itself from a human factors perspective it is to train people from a very early stage of their careers that they are part of a multidisciplinary team and not a professional tribe."
Communication
No matter how well qualified or experienced the practitioner is, stress, illness, excessive workload and even shift work can affect human performance. Healthcare professionals are not routinely trained in human factors, although more are becoming aware of this aspect.
Assistant clinical director for acute medicine at Leeds Teaching Hospitals Trust Nicola Cooper says communication plays a big role in the most serious incidents in healthcare.
"Alongside training staff in human factors we need to focus on systems and process design, and implement standard communication practices," says Dr Cooper.
South Devon Healthcare Foundation Trust is taking positive steps to integrate human factors into routine learning programmes. The Horizon Centre is an innovation, education and research facility based at Torbay Hospital that provides state of the art facilities for simulation and scenario-based learning. Activities are recorded, analysed and reviewed in real time, offering a new opportunity to focus on human factors in patient safety in a safe and supported environment.
Trust director of performance and development Sasha Karakusevic says: "The inspiration for the Horizon Centre has come from a strong belief that as well as learning about the technical tasks we have to make the very most of the team in order to deliver excellent patient care.
"The centre has been founded on the principles that innovation, education and research go hand in hand and that multidisciplinary teamwork is absolutely fundamental to the delivery of excellent healthcare."
Mr Karakusevic concludes: "So far we've found that clinicians want to support what we're doing and want to accelerate it. There is a real sense of excitement and possibility."
Case study: avoidable anaesthetic accident
In 2005, Elaine Bromiley, a fit and healthy young woman, went to hospital for routine sinus surgery. As the anaesthetic was being administered she developed problems with her breathing. For 10 minutes the anaesthetist tried but was unable to keep her airway open. A recognised anaesthetic emergency - one for which guidelines exist - was unfolding.
Over the next 15 minutes the highly experienced team tried unsuccessfully to secure Ms Bromiley's airway. She suffered prolonged periods during which her oxygen saturation remained at 40 per cent.
As the emergency developed nursing staff secured a bed in intensive care and ensured that emergency tracheotomy equipment was made available in the room. Nonetheless neither of these options was taken up.
After more than half an hour it was decided to allow Ms Bromiley to wake up naturally.
When this did not happen she was transferred to the intensive care unit where she was kept alive on a ventilator.
Ms Bromiley never regained consciousness and after 13 days the decision was made to withdraw ventilation support.
An investigation after Ms Bromiley's death demonstrated where some of these human factors had a bearing:
loss of situational awareness - the stress caused the clinicians to focus on their immediate actions and lose sight of the severity of the situation and time passing
perception and cognition - pressure detracted from following the emergency protocol
teamwork - there was no clear leader and there was a breakdown in decision making
culture - despite the severity of the circumstances the hierarchy made assertiveness difficult.
FIND OUT MORE
Patient Safety First Week 21 -27 September 2009
Information on checklists and debriefing in perioperative care, structured patient safety walk rounds and Implementing Human Factors In Healthcare download
Simulation and scenario based learning
www.sdhct.nhs.uk/horizoncentre
Structured communication tools (eg, SBAR)