The lessons learnt from the medical and dental education commissioning system will be crucial to improve access to high quality education for the whole workforce, writes Gillian Hooper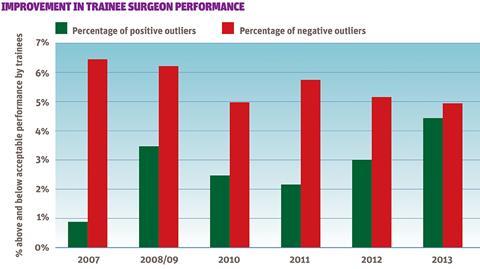 Improvement in trainee surgeon performance
A pioneering approach to actively commission 66 per cent of medical and dental education programmes in London has improved the trainee experience through an enhanced curriculum.
It focused on multiprofessional working in integrated settings and a stronger emphasis on safety, quality and improving health and wellbeing.
Longer placements, interprofessional training within all programmes and improved communication with trainees has supported learning.
Localising leadership
In 2010 the London Deanery established a medical and dental education commissioning system with the strategic aim of transforming the quality and safety of patient care now and in the future.
It was designed to strengthen and localise the leadership of over 82 specialty postgraduate medical and dental education programmes, representing over 10,500 posts for more than 12,000 trainees.

Developing the London Deanery as a commissioner of education, rather than a provider, meant setting up an extensive organisational transition programme, robust governance arrangements, refocusing the operational role of the specialty head of school, and the development of local commissioning capability – specifically for the design and delivery of robust procurement processes.
'One objective was to prepare trainees for even greater change in health, technology and economic circumstances than experienced by their predecessors'
The business case for change committed to a three year commissioning programme identifying costs at £1.5m – less than 0.5 per cent of the total postgraduate medical and dental education resource.
An integrated quality and commissioning team was established with clear objectives to identify lead providers. This was to ensure doctors and dentists in training were prepared to deliver high quality care in integrated care settings configured around the needs of patients.
Another objective was to prepare trainees for even greater change in health, healthcare technology and economic circumstances than experienced by their predecessors. We developed detailed statements of requirements for each specialty programme, which delivered over and above the requirements of the royal colleges.
Key deliverables were sought for all programmes related to service and quality improvement, opportunities for learning and the quality of clinical and educational supervision.
Specific "curriculum plus" deliverables common to all programmes identified all trainees should have:
a minimum of "a year in one place";
work based opportunities to develop as an educator and as a leader;
opportunities to participate in improvement initiatives that focus on prevention and promotion of health and wellbeing;
involvement in incident reporting and investigation, and the development of governance systems;
opportunities for interprofessional education and team working; and
specific support in relation to careers, mentoring, psychological support particularly around times of transition from one level to another.
We identified high level measures of commissioning outcomes relating to quality improvement of education demonstrating year on year improvement as:
the number of trainees obtaining satisfactory annual review of clinical performance outcomes;
examination pass rates;
numbers of trainees producing abstracts for presentation at national conferences and/or first author publications; and
a reduction in the number of red triangles for trainee experience in the GMC national trainee survey, with an increase in the number of green triangles.
The phasing process
The phasing over three years of the commissioning system means responsibility for leading delivery of 66 per cent of posts is now held by nine lead providers in London.
The first year of the commissioning plan focused on identifying lead providers for core medical programmes (core medical training, core psychiatry training and core surgical training) and the second year of the dental foundation programme. A framework contract was developed, with 13 NHS and non-NHS providers confirmed on the framework.
A further competitive process was undertaken to award geographical core programmes to 11 lead providers. Responsibility for 11 per cent of all training posts in London was transferred to lead providers from July 2011.
The initial payment model for the contracts provided one-off mobilisation resources and an ongoing programme management charge.
'It has led to the emergence of new leaders who are well placed to influence and shape future education programmes'
We identified a number of challenges with existing information systems that required significant manual input to validate information about posts to enable accurate payments to be made.
The complexity of historical arrangements relating to the establishment of training programme directors and specialty training committees was also not documented in a single place.
The benefits from a commissioning system were slow to evidence.
But what was clear was the extent to which the process of actively "commissioning" leadership of educational programmes had developed a clear educational focus at board level within trusts and led to the emergence of a number of new individual "leaders" who became well placed to influence and shape future provision and delivery of educational programmes.
Costs of leadership
The second commissioning round awarded a further 25 per cent of posts across 16 specialties through a simplified competitive process lasting nine months.
Awarding of programme leadership to eight of the existing lead providers indicated a stability and maturity of the "market" which provided the rationale for further simplifying commissioning processes.
Through negotiation, the contractual payment model was revised on the fairer basis of a set commissioning system tariff per post to incentivise economies of scale and collaborative working.
As a consequence variations in the "costs" of leadership across London were reduced and the innovative use of study leave resources was achieved.
'Trainees took an active role in determining commissioning priorities. The perspective they brought was invaluable'
A bespoke unified reporting system was established with the aspiration to measure all contractual performance indicators identified for each specialty and all regulatory requirements to support annual reporting to the General Medical Council.
Limits to the capacity and expertise of colleagues needed to create and analyse data on programme delivery has resulted in the simplification of a small number of key performance indicators for each programme.
The third commissioning round awarded a further 30 per cent of posts across 33 specialties through a simplified ringfenced competitive process over six months.
Improved evaluation processes also resulted in a number of programmes not being awarded.
For the remaining programmes – foundation, general practice and dentistry – a commissioning approach has not been identified as necessary to strengthen the quality of educational provision.
Evidence of improvements
Trainees took an active role in determining commissioning priorities, developing specialty requirements and evaluating submissions. The perspective they brought was invaluable. It was also an opportunity to develop skills essential to future leaders early in their career.
A formal contract evaluation was undertaken after two years.
Notable achievements included:
enhanced local educational leadership with the establishment of local training committees;
improved local administrative support for training and specifically more effective direct communication with local trainees;
increased momentum in the rollout of London Deanery initiatives, previously organised centrally;
simulation based activities embedded in the delivery of all core programmes;
improved use of resources achieving increased value for money;
increased length and quality of trainee placements;
multiprofessional (including simulation) and interprofessional training available within all programmes;
all trainees engaged in quality and safety improvements; and
delivery of a minimum of 50 per cent of stated specialty specific requirements over and above curriculum requirements.
Lessons learned
While formal contract reviews have demonstrated delivery of agreed initiatives and improvements, the most significant impact on patient safety and quality of care has been demonstrated by trainees through participation in the GMC national training survey.
There was a small reduction in negative outliers reported by the GMC each year for all surgical educational programmes in London. More importantly a clear year on year increase in the positive outliers has shown a positive improvement as perceived by trainees in clinical practice.
Detailed comparisons of annual review of competence progression outcomes and exam pass rates are now being undertaken, with local discussions focused on developing action plans with trusts to address areas of ongoing concern.
With the authorisation and development of local education and training boards the identification and use of effective commissioning approaches will be crucial to improving access to high quality education for the whole workforce.
The key lessons for education commissioners are:
focus should be on "curriculum plus", educating for a whole system integrated multiprofessional approach to improve population health;
make trainees more actively involved in safety and quality initiatives promotes closer working with regulators such as the Care Quality Commission;
all active commissioning approaches increased educational focus at trust board level and enabled new leaders to emerge;
direct involvement of trainees in commissioning added value and they developed skills required for future leadership roles;
it was easier to develop an understanding of the educational system than to build commissioning capability from scratch, although it takes time to translate service commissioning expertise effectively to an educational setting;
ensure a market analysis informs the commissioning approach to be taken so that it is as simple as is needed to achieve the strategic aims;
it is easy to underestimate the capacity and expertise needed to maintain contractual performance management systems so ensure key performance indicators are few and meaningful;
use the GMC survey results as a reliable indicator of commissioning outcomes and impact upon clinical practice; and
the benefits of education and clinical supervisors should be explored for all professions.
The experiences of the medical and dental education commissioning system will help education commissioners wishing to realise similar strategic aims.
Gillian Hooper is director of quality and commissioning at Health Education England on behalf of the London local education and training boards