Temporary Nightingale North West due to open in Manchester conference centre next week
Could provide up to 650 "step down" beds for patients recovering from covid-19
Differs significantly from model drafted for temporary hospital in London
Having more time to prepare for the surge in coronavirus cases helped the North West region formulate "considered" plans, the chief executive of its new temporary 'Nightingale' hospital has told HSJ.
Nightingale North West is due to open in a Manchester conference centre next week. It is set to provide up to 650 "step down" beds for patients recovering from covid-19, with potential for a further 100.
This model differs significantly to the Nightingale hospital in east London, which, according to draft plans, will be largely filled with intensive care beds.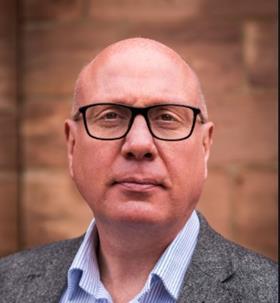 Michael McCourt
Michael McCourt, who will lead the North West Nightingale in Manchester, told HSJ that leaders in the region had been looking closely at evidence from London, where the existing hospitals have so far managed to cope with a surge in covid-19 cases.
He said the latest modelling suggested the North West's NHS hospitals can establish enough surge capacity on their estate to cope with the outbreak's peak, provided step down care was available to free up critical care beds.
He said: "Social distancing has had some success and the hospitals in the North West have been able to scrutinise their own plans around their critical care surge capacity within the hospital estate, and then with the Nightingale think through the best arrangements and functionality that we could provide.
"And yes, we've had more time than perhaps we thought we would, which means we've been able to come up with what hopefully is a considered arrangement for the people of the North West of England.
"We want to have a safe and steady start and, as things are at the moment, it seems likely that we'll be able to gradually start seeing patients from Monday. I can't evidence this but it does feel as if social distancing is working, which should enable us to open in a managed way."
Mr McCourt said the facility will rely partly on staff from existing hospitals, as well as people coming out of retirement, private sector staff, and clinical graduates. Asked about the risk this could pose to the resilience of other hospitals, he said: "Our first principle of recruitment is not to destabilise the existing trusts."
He also said patients and hospitals across the region would have equal access to the Manchester facility, saying his team was working with North West Ambulance Service Trust to "make sure accessibility across the region is supported".
Mr McCourt is chief executive of the "local care organisations" in Manchester and Trafford, which are formally hosted by Manchester University Foundation Trust.