Children's nutritional needs are as important as their education and social development, writes Danone Nutricia's Helen Crichton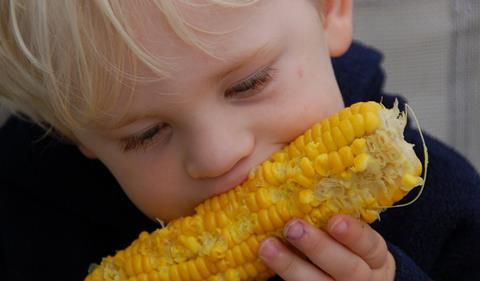 The early years are regarded by politicians and policymakers as a critical period for intervening to improve children's outcomes. However, they have been less engaged in children's nutritional needs, focusing instead on supporting young children's educational and social development.
'How can we help parents feed their children healthy meals and encourage healthy eating habits at home?'
Children's nutritional preferences, behaviours and habits are set in infancy with lifelong implications for physical and emotional wellbeing.
Research has shown the period spanning pregnancy and the first two years of a child's life - the first 1,000 days - is a critical time for laying the foundations of healthy development and preventing nutritional problems from arising.
Emerging evidence demonstrates that good early life nutrition can help protect against health risks such as high blood pressure and cholesterol, type 2 diabetes and obesity. As well as children's health, breastfeeding and good nutrition in the preschool years have been found to be extremely important to their behavioural development and educational attainment.
Despite this growing knowledge base, the expansion of breakfast clubs and universal free meals as a flagship government policy, early childhood nutrition still does not occupy a central role in the early intervention agenda. Both policies demonstrate a government focus on in-school intervention, overlooking the importance of the preschool child.
As such, the challenge to help parents with clear information and support regarding pregnancy and early childhood nutrition remains. How can we help parents feed their children healthy meals and encourage healthy eating habits at home?
Changing responsibilities
From 1 October 2015 local authorities will take over responsibility from NHS England for planning and paying for public health services for babies and children up to five years old. Services include health visiting and the Family Nurse Partnership programme.
'As a nutrition company we take our responsibilities very seriously, in the food we make and the information we give'
Regarding this shift in responsibilities, the government says: "Local authorities know the needs of their local communities best, so they will be able to bring together a range of different services for children and families, and have more opportunities to reduce the health inequalities in their area."
In the absence of clear national policies and campaigns to support these aspirations, health and wellbeing boards are now left to commission local services to provide timely and consistent advice. Prior to October next year it seems reasonable to expect Public Health England to:
provide clear nutritional guidance across maternal and childhood policy;
conduct a national public health campaign to inform parents of the risk of vitamin D deficiency and benefits of vitamin supplementation for mothers, infants and toddlers;
refresh its Start4Life strategy to develop clear messages on healthy eating to include the toddler age group; and
ensure all healthcare professionals responsible for delivering care are trained on the importance of nutrition in the first 1,000 days of life including diets in pregnancy, weaning and beyond.
So, why is Danone Nutricia involved in this debate? As a nutrition company we take our responsibilities very seriously: in the food we make and the information we give. For 10 years we have supported, through an educational grant, the Infant and Toddler Forum - nutritional experts delivering evidence based information and tools.
Understanding families
Ten Steps for Healthy Toddlers are tips to manage feeding behaviours and encourage good food choices, disseminated though childcare settings reaching about 2 million children and their families.
We wanted to refresh our own understanding of why families and carers often struggle to achieve good early life nutrition. We held a workshop in Birmingham, bringing together 60 parents, carers and professionals to share their experiences face to face. Four themes emerged:
Cost: Parents feel pushed into making affordable food choices, turning to convenient food for the whole family.
Information: Information overload leaves parents confused, and often feeling paralysed to act.
Time: As parents juggle work and spending time with their children, eating patterns can be unstructured more frequently and less healthy.
Lifestyles: Responsibility for feeding a young child is shared between several adults and in different settings, leads to inconsistency and disruption.
The outputs have been compiled into the report Encouraging a "Big Conversation" About Early Life Nutrition. The document is a catalyst to champion the important issue of improving early life nutrition, creating solutions and actions for young children and the people who care for, shop for and feed them.
Helen Crichton is head of public affairs for Danone Nutricia
Integration Summit: Early learning on nutrition
1

Currently reading

Integration Summit: Early learning on nutrition

2

3