End Game recently learned that NHS England chief executive Simon Stevens holds regular Q&A phone sessions with staff so they can raise any concerns they might have directly with him.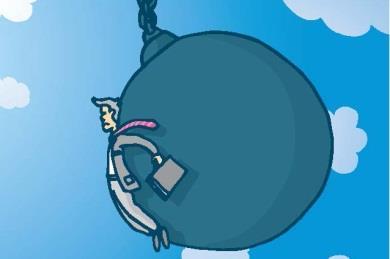 This exercise in transparency is commendable, and we imagine highly valuable for the workers who read all manner of scaremongering stories in the media written by pesky hacks (not HSJ's experts, obviously) who play fast and loose with the truth and often have, to use PR parlance, "an agenda".
End Game understands that during one recent phone-in, a staffer raised a worrying story from a local paper, which said the organisation's London HQ, Skipton House, was due to be bulldozed and turned into trendy apartments.
"Nonsense!" decried Mr Stevens. "If they were trashing my manor, I'd know about it. Next!" End Game paraphrases, but understands this was the thrust of the message.
'Management has as much to learn from the coalface as their staff do from them'
Phew. That draws a line under that non-story then. Local papers, eh? What do they know? Well, on this occasion they know slightly more than the big chief.
Staff have since been officially notified that Skipton House will be demolished after the government's lease expires next year.
Still, at least management can mark the episode down as a victory for 360 degree learning and proof that they have as much to learn from the coalface as their staff do from them.
Height of stupidity
Paramedics have a tough time of it and End Game wants to pay tribute to the most forbearing staff in the NHS, who often come into contact with staggeringly stupid people.
One staggering act of stupidity recently came courtesy of a stag party in Kent. They decided it would be really funny to lock paramedics in the back of an ambulance.
'The paramedics were stuck in the ambulance for the rest of the night'
Owing to their stupidity, they managed to break the key in the lock, which left the paramedics stuck in the ambulance for the rest of the night. Three cheers for mob mentality.
Speaking of which, elsewhere in the south east of England police were attacked when attending a brawl involving 200 people at a social club at Medway Maritime Hospital. Eight paramedics on duty at the hospital ran to help the police who were under bombardment from the mob.
Medway is already struggling with long waiting times and a soaring deficit – the last thing it needs is a load of idiots beating up police officers.
Civil sense
We were filled with national pride recently at the impeccable manners our government showed to the Chinese president when he came to stay.
This included arresting and searching the homes of pro-Tibet protesters for peacefully holding up banners, and inducting a distinctly average Chinese player into the English Football Hall of Fame to join the likes of Bobby Moore and Eric Cantona.
We were most impressed, however, with the powers that be at the Department of Health who strong armed their civil servants into pretending to be friendly barflies at a local pub.
The Red Lion is the watering hole of choice for Westminster stalwarts and some of President Xi Jinping's entourage were due to be given a quick peek at this "great British tradition" – as the pub modestly bills itself.
'Civil servants pretended to be friendly barflies at a local pub'
Civil servants were ordered from their desks to don civvies and pretend to be "normal people". End Game can imagine the civil servants raising a pint to the president's entourage in a gesture of British goodwill, handily captured by waiting photographers.
Saturday blues
Because End Game is a massive saddo we sometimes turn Twitter on at the weekend. If you don't have this habit, don't acquire it – it's just tweets about football and X Factor.
Scrolling through the drivel one Saturday evening, we were surprised to see the DH press team was online – perhaps taking a lead on seven day services?
@DeptHealthPress felt compelled to write: "Aaarrrgggghhhh. Sat down finally at 6.20pm to read
@guardianweekend and there's no Sophie @heawood column - wtf?!"
We looked up "wtf" on the Urban Dictionary. It does not stand for "water the flowers".
Choice quote from journalist Sophie Heawood during the Labour leadership campaign: "What I want is for the Labour Party to provide a big fat alternative to Osborne and his vision for oakum picking in the 21st century workhouse."
'We were looking forward to learning what they were up to this Saturday night'
End Game fully sympathises with the press officer: we wish we had more time to read left leaning newspapers too, and it is indeed a massive bummer when our favourite Hackney dwelling Labour fan decides they have something better to do than write 600 words to entertain us and confirm our worldview.
Since we're always complaining about the bizarre robotic language press teams normally take, it would be churlish not to welcome the more human tone the DH adopted.
Sadly, normal service was soon resumed, and the tweet was deleted. Maybe the DH was embarrassed at having let its guard down. A shame, as we were looking forward to learning what they were up to this Saturday night, and hearing about their raging hangover on Sunday morning.