Hats off to a minister who actually delivers on his chocolatey promises, while foreign nurses pitching up to work in east Lancashire get a shock, thinking they were 'coming to London'.
End Game has only the greatest respect for politicians who keep their promises, however small. We therefore doff our cap to Labour's shadow health minister Andrew Gwynne.
Earlier this month, a group of Tory MPs entered the Commons to discuss candles and Creme Eggs, in an effort to "filibuster" the time set aside to discuss an NHS bill put forward by Labour MP Clive Efford.
'Mr Gwynne pledged to provide Mr Rees-Mogg with a Creme Egg, presumably hoping it would stop him talking'
Somerset MP Jacob Rees-Mogg, also known as "the honourable member for the early 20th century" due to his encyclopaedic knowledge of parliamentary procedure, was one of the MPs who took part in the flamboyant time wasting tactics in the chamber.
It would appear that during proceedings Mr Gwynne pledged to provide Mr Rees-Mogg with a Creme Egg, presumably hoping it would stop him talking.
Nearing the end of the debate Mr Rees-Mogg said: "May I place on record my gratitude to the honourable gentleman for promising me a Creme Egg in the committee and for delivering. He is a politician who delivers on his promises."
This clearly bodes well for Labour's pledge of no more top-down reorganisation in the NHS.
A right carry on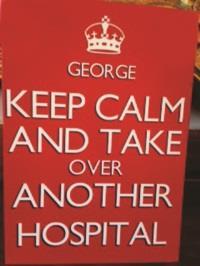 End Game must declare a biased aversion to reworkings of the "Keep Calm and Carry On" poster that so regularly offend our eyes with their lack of originality.
But even we had a chuckle when we saw the card that graces the office of King's College Hospital Foundation Trust chair George Alberti. While the card's missive – "keep calm and take over another hospital" – may fill the average district general hospital with dread, it no doubt provides daily motivation for high flying teaching hospitals looking to expand their empires.
However, given King's recent woes with the takeover of Princess Royal University Hospital, a "get well soon" card might be more welcome.
Bob a job
There will surely always be reasons to be pessimistic about the NHS, but the fact that we now even have a phrase for "parity of esteem for mental health" is one tiny diamond poking out of the enormous fatberg of health policy floating through the sewer of our political system.
End Game applauds care minister Norman Lamb for actually giving a monkey's about mental health, and sympathises with his rage at a system that seems loaded in favour of everything else.
But what's this? A new resource at the minister's disposal to advance this worthy cause?
'End Game sympathises with Lamb's rage at a system that seems loaded in favour of everything else'
Apparently so. While messing about – sorry, we mean engaging in policy debate – on Twitter, we noticed that a young chap had contacted the minister about a forthcoming powwow.
"Looking forward to our meeting next week on how to mobilise half a million @scouts in the name of improving #mentalhealth," Chace Community School head boy @jabrey97 tweeted at Mr Lamb. 1997? Gosh, End Game feels old.
But we were cheered at the prospect of the 500,000 knobbly kneed joiner-inners rising up and oggy-oggy-oggy-ing the nation into better mental health.
Just getting everyone in the country to say "woggle" into the mirror every day would be a start. End Game is less certain that spending long drizzly weekends camping while missing your mum and trying to master a sheepshank knot will do much to vastly improve the nation's wellbeing.
We look forward to presenting Mr Lamb with his badge for "optimistic big society projects".
London calling
England is a relatively small country, and London, economic behemoth that it is, has tended to dominate the place. But we all know there is far more to this fair nation than the capital.
This important lesson was recently impressed upon some of those coming to work in the NHS from overseas.
According to the Lancashire Telegraph, some foreign nurses pitching up to work in East Lancashire Hospitals Trust were under the misapprehension they "were coming to London".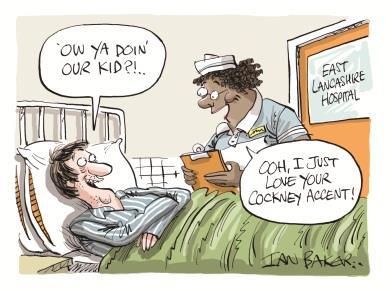 At a recent board meeting, chief nurse Christine Pearson explained: "When they came to England they felt they were coming to maybe London, so that was one of the issues we had to work on."
We trust they have managed to overcome the shock and have settled in well.
Of course, the other thing that England's modest size masks is its extraordinary range of accents and dialects.
In reassuring the new recruits that they needn't worry too much about language problems, Ms Pearson said: "I had a patient say to me 'you're not from round here' so, even if you live 25 miles down the road in Manchester - such as me - you'll always have language barriers."