When acute doctors don't understand primary care and GPs fail to grasp the hospital setting, integration efforts will struggle, so why not bring them together, asks Jonathan Inglesfield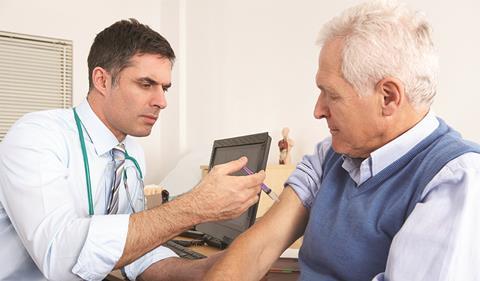 GP
What does "integration" really mean? It's a much used word, but for all the conferences and presentations, many integration projects appear to tinker with structures and organisational charts, rather than be about really mixing up clinical teams.
'We had to integrate the medical teams – not just theoretically'
At Guildford and Waverley CCG, we have excellent primary and secondary care services, and those services have traditionally had a great working relationship. However, talk to individual clinicians and an immediate gulf is apparent: GPs don't really understand what happens inside hospitals and hospital doctors don't really understand the full potential of primary care.
We asked the following:
Why do GPs become frustrated with hospital teams for apparently repeating tests, overinvestigating patients and admitting patients "unnecessarily"?
Why do hospital doctors become frustrated with GPs for making occasional "inappropriate" admissions, not following guidelines and having perpetually engaged phone lines?
To learn the answers, we had to integrate the medical teams – not just theoretically, but to start getting GPs and hospital doctors to actually work alongside each other. This would mean discussing the same patients, solving the same clinical dilemmas and working together on the same "tricky discharges". So we designed the In-reach GP.
The concept was simple and grew from our learning over the last couple of years, with initiatives such as our hospital implementation group. We wanted to place a GP alongside the medical take teams of several clinical areas, every morning, daily. The job description was essentially for them to act as an ambassador for general practice within the hospital, and to offer primary care expertise and liaison skills to the hospital teams.
Interest from GPs
The post was funded from part of our frailty initiative monies – the monies all CCGs were asked to invest to support elderly care services, with a suggested funding level nationally being £5 per head of population. In future, we anticipate that the funding will follow the pattern of the remainder of our integration work as possibly a joint initiative with other providers.
'It's not reasonable to expect an acute team to understand the breadth of the skill of the primary care team'
We advertised and quickly attracted interest from GPs who fancied a challenge. Soon, four out of five mornings were covered and the GPs started work in April. We initially had three IRGPs working in our acute trust, the Royal Surrey County Hospital Trust. While recruitment is an ongoing challenge, our long term ambition is a seven day service and we continue to seek interested colleagues.
The work of IRGPs occurs in a variety of locations, including accident and emergency, the emergency admission unit, medical and elderly care wards, and we plan to extend this to orthopaedic wards.
IRGPs typically start their session with the post-take medical team in our emergency admission unit. They work alongside the consultant of the day, reviewing admitted patients with the team. They bring a primary care perspective, advising on out of hospital pathways and primary care services that are a realistic alternative to inpatient care. It is simply not reasonable to expect an acute hospital medical team to understand the breadth of the skill of the primary care team, or the admission avoidance services that can be used to facilitate rapid discharge.
What IRGPs do
Every round is different, as is the value added by IRGPs. Sometimes they are able to discuss the practicalities of community services available to support early discharge, such as community matrons and district nursing teams. It's one thing knowing that a community nursing team exists; it is another understanding the nuances of the GP/community team dynamic, and exactly how primary care teams work together to support patients in the community.
'Importantly, they act as a liaison point for GP colleagues outside the hospital'
Sometimes the value is simply "being there" as a beacon for primary care – a reminder to obtain a copy of the patient's continuous care (GP) record or a patient's proactive care plan – a document that has taken much time to produce in the community, but is so easily overlooked. They can also offer the "holistic" view of care, with their vast experience of managing the frail multimorbid individual and navigating the maze of multiple disease guidelines.
After the post-take ward round, IRGPs have a variety of roles. They have "home" inpatient wards away from the acute medical unit, where they are known to the inpatient multidisciplinary clinical team, again offering primary care expertise and liaison.
Importantly, they also act as a liaison point for GP colleagues outside the hospital enquiring about complex or multimorbid patients, who they feel are particularly in need of a holistic approach to care and an early discharge. On other occasions they attend the hospital complex discharge meeting and work with the inpatient palliative care team.
'Soft intelligence'
They also act as a source of soft intelligence, whether that is around opportunities for improving the community or hospital elements of a care pathway, and feeding back to both hospital and primary care teams. Their joint line management – professionally to the CCG medical director and managerially to the hospital clinical director for acute medicine – facilitates this.
'The key question is whether it makes a difference to individual patients' experience'
The hospital teams have already recognised their huge value in offering an alternative medical perspective to inpatient care.
They are not seen as intruders, but as skilled colleagues with a real role to play in patient care. It took a while, perhaps a year, to evolve the concept of the IRGP. Now, even in its early days, it already seems a clear "must do" initiative.
The key question is whether it makes a difference to individual patients' experience, as well as the key indicators of unplanned admission and length of stay. What we know is that our length of stay is falling, as is our admission rate for over 65s. What we don't know is how much of this is due to IRGPs and how much is due to other factors, such as our care planning programme, integrated care pathway, ongoing work with the HIG team, and the hospital's own portfolio of projects on bed utilisation and enhanced discharge.
But it seems obvious that these combined and integrated approaches are working – and central to that is the integration of primary and secondary care medical expertise through the role of the IRGP.
Jonathan Inglesfield is a GP and medical director at Guildford and Waverley CCG.
Primary care advice in an acute setting
What Jonathan Inglesfield learnt about IRGPs working in hospitals:
Gaining the trust of hospital colleagues takes time: "Prior to the launch of the scheme, our GP medical director and other CCG GP colleagues had been working closely with the hospital teams for over a year."
Recruitment is a challenge: "GPs are scarce and are busy people. However, we found the job genuinely attracted interest – it was something different and a talking point."
You need to be flexible: "We have naturally allowed the activities and role of the post to flex, according to the natural rhythm of the hospital – but this allows opportunity, such as the work with our inpatient palliative care team."
Integration is complex: "Defining the benefit of specific outcomes is difficult when many similar initiatives overlap. We are now collating data on specific outcomes attributable to the IRGP role."