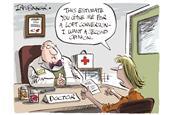 A public health pop vulture and David Beckham's birthplace

Hospitals in the wrong place at the wrong time are in danger.

By the time you read this, NHS London will almost certainly have signed off the Barts/Whipps Cross/Newham merger.

By now everyone in London's heard of the SaFE review. NHS London commissioned consultants McKinsey to put together the Safe and Financially Effective paper and it has sat on desks for a few weeks at Southside. It's explosive.