As people from many walks of life write the stories about their illnesses and experiences online, blogs are influencing and connecting with others in need, writes Roz Davies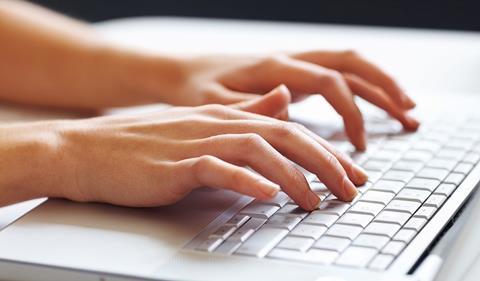 Keyboard
Stories have always been intertwined with humanity – a powerful mechanism to share wisdom and knowledge – to influence and inspire people, and to connect and, sometimes, control communities.
In many ways digital technology has opened up this world of sharing stories.
More people can tell their stories to more people, any time they want to and in their own style and words. Choice and reach has been transformed by technology for many people.
Blogging past the barrier
I made the realisation that blogging had become part of digital citizenship in health one evening when I stumbled across two posts from two young men on different sides of the Atlantic.
These men are American Shane Burcaw, who writes under the blog Laughing at My Nightmare, and Adam Bojelian in the UK, whose blog is called In the Blink of an Eye (see screengrabs below).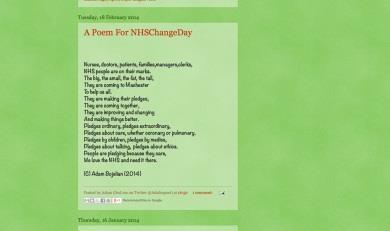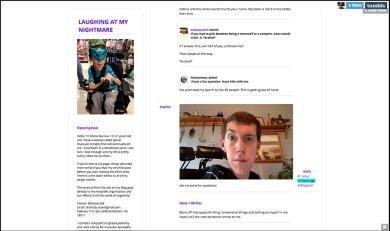 I read their stories that evening and I have to admit I shed a few tears, absolutely touched by their courage and their attitude to life. I do not want to tell you more about their stories as it is better to read their own words.
'I realised that blogging was incredibly powerful for them to take control of their lives and conditions'
Reflecting on these upbeat, inspiring blogs and the health challenges that these two brave young men live with 24 hours a day, I realised that there is something incredibly powerful about how they had used blogging to take control of their lives and conditions.
The usual barriers faced in the real world seem to be flattened as their humour, wit, and entrepreneurial and generous spirits shone down the internet highway.
New age self-therapy
There is a fascinating piece, undertaken by of research by Leon Tan in 2008, which discusses "blogging as a self-therapy" and highlights a survey carried out by America Online in 2005. It showed that almost 50 per cent of bloggers were using them as some form of self-therapy.
The research looks at blogging in a social network context and discusses the potential to develop connections and relationships within a community, an opportunity for self-reflection and the opportunity to be heard in that community, all of which can have a positive impact on wellbeing.
'Not only does blogging seem to be good for the author, it is a way of influencing and connecting with many others'
Other research has shown that blogging is a stress coping mechanism. It improves memory and sleep, boosts immune cell activity and speeds up healing after surgery, says Jessica Wapner.
In her article much attention is given to evidence around therapeutic writing, such as a specific oncologist study by Nancy Morgan, who says "blogging undoubtedly affords similar benefits to expressive writing".
She aims to incorporate writing programmes into supportive care for cancer patients.
Not only does blogging seem to be good for the author, it is a way of influencing and connecting with many others. Some readers will have similar conditions and will see the writers as role models.
Writer role model
I have type 1 diabetes. For me the decision of whether to have children or not was a difficult one as I was concerned about the risks to their health.
I read the National Institute for Health and Care guidance, spoke to clinical experts and was still unsure about this difficult decision.
'Blogging as a therapy can be life changing. Reading these stories is an education'
Then I found a blog from someone who had been in a very similar position; this helped me in two ways. First, the information shared in the blog about the personal issues that must be explored before making such a decision and second, this was a person with whom I could relate who had successfully achieved my goal. I now have two healthy children.
Anthony Bandura's theory discusses the positive impact of strong self-efficacy on wellbeing and the idea that witnessing someone you identify with succeeding can improve your own self-efficacy.
Good citizens
The strength of character showed by Adam and Shane touched me that evening. They made me reflect on challenges in my own life and inspired me to be more determined to overcome them.
So blogging is becoming an act of citizenship.
People from many different walks of life are spending much time, energy and emotion writing and sharing their story, and in doing so spreading their approach to life and giving something very personal and important back to society.
They include Connor, the marathon runner with multiple sclerosis who has a mission to share "attitude is everything", to Kate Granger, a doctor with an aggressive form of cancer who shares her invaluable insight through her blog. Both of these amazing people have also written must read books.
Blogging as a therapy can be life changing. Reading these stories is an education, an emotional experience, a journey. There are some very practical insights, some philosophical points and some clear messages for developing a great and relevant future healthcare system.
Roz Davies is director of community engagement at HealthBeMe and former director of Altogether Better