Jen Hyatt discusses her favourite healthcare innovations from the NT100, which showcases how digital technology can be used for social change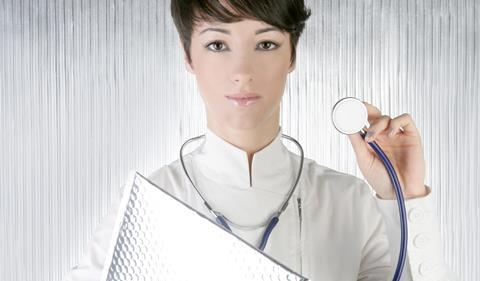 The doctor-patient relationship lies at the heart of much Western thinking about health. But only a few centuries ago, most people in the UK never saw a doctor.
'With significant advances in IT over the last decade the doctor-patient relationship has been disrupted'
During the 19th century, the greatest strides in health and life expectancy came from improvements in nutrition, sewerage and water supply rather than the medics. But by the 20th century, doctors were much better informed about how to treat and prevent a number of illnesses.
Better hygiene stopped the worst of the epidemics but vaccination kept them at bay. Improvements to surgical techniques and anaesthesia meant that operations had a decent chance of doing more good than harm.
The emerging disciplines of psychiatry and psychoanalysis moved the focus from containment of mental illness to possible cure. And by the mid-century, infections that would have been fatal just a few years before were easily cured by antibiotics. Doctors had arrived firmly at the centre of health.
And so had "the patient". Professions have a habit of giving labels to those they practice on. Lawyers have defendants; they are protectors. Teachers have students; they are educators. Doctors have patients; they are curers. These are all expert models, entrenched in professional qualifications, quality standards and certification. Moreover, they embody a culture that is both altruistic and paternalistic.
However, with significant advances in IT over the last decade – particularly the rise of social media – the doctor-patient relationship has been disrupted.
Rebuilding trust
At policy level, the imperative to change has been economically driven. Among people, change has happened through the increased availability of information and new opportunities to build trusted relationships.
For example, Search Engine Watch found that 90 per cent of 16-24 year olds believe the medical information shared by social networks. The locus of control is shifting from the doctor to the individual.
Finally, it seems, we are recognising that the majority of healthcare does not take place within organisations or with professionals, but with ourselves, our families and friends, our peers and in everyday life whether at home, work, socially or on the move.
'All these digital services enable people to take greater control of their own healthcare journeys'
Many of us are no longer willing to be passive consumers of care, and want to be more involved in managing our own health journeys. Increasingly, we ask for data to validate our medical and health choices and track our own state of health and wellbeing.
For me, the most interesting technologies are those that focus on providing control to the individual through offering reliable data, high levels of engagement, personalised choices, access to clinical support and a strong focus on information and clinical governance.
These are all features of our digital service and platform, bigwhitewall.com, and are also present in many of the organisations that form the Collaborative on Health and Technology that I founded last year.
These including services like BuddyApp, The Sound Doctor and Dr Foster, as well as a number of my favourite healthcare innovations from the 2013 Nominet Trust 100 (NT100) – 100 of the most inspiring social ventures from around the world using technology for good.
All enable people to take greater control of their own healthcare journeys.
Empowering patients
Some make simple, single additions to existing services: Pharmasecure allows patients to check their medication to ensure that it is from a genuine supplier and will not harm them; UK social enterprise: Patients Know Best, is working to make complex, specialised health systems more manageable by putting the patient, and their family, in charge of their own patient health record; and Patients Like Me, offers patients an outlet to share their experiences and to act as a dynamic research.
Other healthtech ventures transform educational approaches: Skillshare enables cheap, flexible online learning across thousands of topics, including health; and Mobile Academy is using mobile phones to educate health workers in poor rural areas of India.
In fact, mobile technology is playing a significant role in how we rethink healthcare services: MedicallHome is connecting people from poorer and rural areas in Mexico to low-cost, private healthcare through their phones; and Imaging the World is hoping to capitalise on the power of the mobile phone, combining it with novel ultrasound techniques to improve healthcare in Uganda.
'Importantly, all of these projects have the potential to operate at scale'
Technology is allowing patients get closer to medical science than ever before. uBiome aims to give the public access to cutting-edge DNA sequencing technology that analyses the make-up of the microbiome and shows how it compares to other samples.
In the world of big data, Cell Slider is demonstrating how the application of data, plus a healthy dose of citizen participation, can help scientists move more quickly towards a cure for many types of cancer.
The NT100 also highlighted a few projects that are not about healthcare directly at all, but about the wider determinants: NextDrop, for example, gives people who live in areas without guaranteed clean water supplies text updates on their local supply.
Importantly, all of these projects have the potential to operate at scale. Sadly, few are likely to get the opportunity to do so without greater political will and more creative financing structures.
Talking tech
In the UK, there is much rhetoric about innovation, but even the mechanisms to aid scale, such as High Impact Innovations, are not truly promoted for implementation beyond a rarely opened catalogue that lies on dusty shelves.
'There remains a lack of imagination and process to bring about cultural shift in healthcare'
Similarly, while there has been an explosion of financing for start-ups, colliders and even accelerators, there has been less focus on how to financially structure for growth beyond proof of market concept and first revenues.
Finally, while there is much afoot to improve transparency and participation, there is greater focus on data than on the engagement that is required to truly transform healthcare.
There remains a lack of imagination and process to bring about cultural shift in healthcare. We need to create a vision in which people can locate themselves, can act to bring that about and are incentivised to make changes.
So imagine, for example, that your home knows how you feel both mentally and physically when you wake. That this triggers changes in your ambience and what your fridge offers you up for breakfast. You head outside and your car recommends that you walk to work and, at your discretion, those you love know how you are feeling without you ever needing to say. On top of this, you get points for taking healthier choices that get you discounts and offers that are valuable to you.
Organisations like those mentioned above and others such as BioBeats, Soma Analytics and ginger.io are already taking us on this journey. It is a future where doctors run out of patients.
Jen Hyatt is founder and chief executive of Big White Wall. The NT100 is part of the Social Tech Guide