Leaders in the group both support each other and use their collective talents to help a charity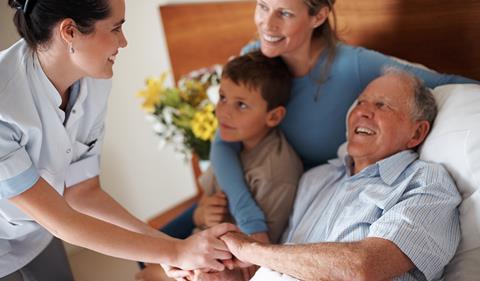 Nurse treating older person
When Julie Bolus first met the group of top leaders who would become some of her closest colleagues and confidantes, she admits to feeling a little nervous.
She, and six other director level NHS employees, were taking part in the NHS Leadership Academy's Top Leaders programme, which includes up to six "impact group" meetings.
Participants on the prestigious course are sorted into small groups, generally from a variety of backgrounds, with the idea that they will meet and work together on specific projects as part of their development.
"I looked around at the others and I admit that I was scared," says Ms Bolus, director of nursing at NHS England's Derbyshire and Nottinghamshire's area team.
'I looked around at the others and I admit that I was scared'
"I thought 'these are really high flying people' and I realised I needed to be confident or I'd disappear in that group. I mean, I work with great people, but you don't often work with so many people who are really a bit 'gosh'."
That was in 2012. Thankfully, Ms Bolus' fears proved ungrounded – so much so, that the impact group is still meeting four times a year, although they have long finished the official programme.
So why did it work so well?
"Very quickly I realised that we could all get on," she says. "We're quite different people and have very different backgrounds, but we have a common shared values system.
"We were all signed up to the same ideas. The Top Leaders programme is an amazing opportunity for individuals taking part, and we could have sat back and selfishly absorbed that. But none of us felt that - we all wanted to give something back."
Third sector partnership
The group decided to share their leadership experience with a third sector organisation, and approached the Trident Reach charity. Connected with a housing association, this Midlands based organisation provides support and opportunities to people in need.
"We approached them and asked if they wanted to partner and they bit our hands off," laughs Ms Bolus. "It's been a really tough time for third sector organisations, coping with changes and cuts - that's a real leadership challenge. They were going through some significant change and really valued the leadership coaching we were able to give them."
Working with Trident Reach really helped to draw the small group together, she says, and focused them on the big issues that are also facing the health service.
It also meant that they met more than the prescribed minimum (four times in the year). At the end of the course, they decided to continue - an easy decision, she says, because all felt that it benefited them as individuals, and the organisations where they were working.
"In a leadership role, you can be in a lonely place," she says. "Although I work with a really effective team, leadership posts can be isolating.
'We were able to help Trident Reach - but we were also able to learn from them'
"It helps to be able to talk to someone who understands what you're going through. I think that our organisations benefit too, because you need energy to drive through change: good, positive high energy. Once we've unloaded at the group, you've got some of the 'gosh, it feels really heavy' out of your system, then it really energises you, and that's good for your colleagues, for the NHS, and for patients."
Steve Feast, executive medical director of North East London Foundation Trust, laughs when he hears that Ms Bolus felt nervous. "It's imposter syndrome," he says.
"After a while you realise that everyone feels the same."
For him, the programme was not as nerve racking: having worked in the Department of Health and the Cabinet Office, including the prime minister's office, he was accustomed to engaging at the highest level. "It was more about making connections with people facing the same leadership challenges," he says. "Working with other people in positions of authority means you can be very open."
He enjoyed many aspects of Top Leaders, he says, including the masterclasses and sessions to build on technical competencies of leadership, and how to apply them.
Valued connections
But it was clearly the connection with others in similar positions that he valued greatly. Echoing Ms Bolus, Dr Feast says that leadership can be a "lonely place". "As leaders, we shouldn't strive to be loved; we should be pleased to be respected," he says.
Having greater self-awareness, he adds, helps you to understand people better and to listen and learn.
Like Ms Bolus, he believes that their particular impact group gelled so well because they had similar values. "There was a sense of social mission and purpose," he says. "We felt that if we were lucky enough to be receiving this development, the least we could do was give something back."
Working with Trident Reach had a number of mutual benefits, Dr Feast says. "It meant we could learn from another sector, and one which the NHS is increasingly working with. We were able to help them with some of the challenges they were facing. But we were also able to learn from them."
'Having greater self-awareness helps you to understand people better to listen and learn'
He was especially taken with Trident Reach's values based approach, and has since striven to take the lessons back to his own organisation.
"They were very good at getting people's commitment, and buy-in, with an approach that you might call having a values based impact," he says. "We learned that what they really valued about staff wasn't so much about performance metrics, but rather, it was about values."
As a clinical executive at an ambitious foundation trust that has seen a significant expansion in scope and aspiration in the past few years, Dr Feast has now taken a similar approach in his workplace. "We want to embed the values of the organisation, across the organisation," he says.
The trust worked with an agency to bring together 200 previously unengaged staff - 90 per cent of whom had never been to such an event. The staff members were asked how they would characterise the organisation, what words they would use to describe it. The results were an interesting insight into how the trust's values were seen and felt on the ground, and is part of ongoing staff engagement processes.
So what types of issues do the seven members of the impact group bring to their colleagues? According to Dr Feast, it is less about personal career development, and more about getting fresh perspectives on any challenges they are facing.
He cites Care City, a change programme being driven forward by his trust with the aim of reviving the communities of the Thames Estuary. Helping the area to "grow" its own future workforce is just one of the strands of this forward looking project. Inevitably, however, as with every transformation programme, there are challenges along the way.
"It's a see-saw," says Dr Feast ruefully. "Something great will happen, then there'll be a setback. It's a huge project, and although we're making great progress, challenges are inevitable."
He has found it hugely helpful to take his experiences to the group, because they would listen and understand.
Coming from a variety of organisational backgrounds, they can bring new perspectives to a particular issue and help him reflect on the best ways forward.
They can also reassure each other - from their own experience - that what they are going through is typical for this type of project.
Safe place
Importantly, Dr Feast says, the group feels like a "safe" place. "We don't even invoke Chatham House rules," he says. "But nothing that we talk about leaves the room."
The group members all value the meetings, he says, and employers also do what they can to support attendance, recognising that it has a knock-on value for organisations.
'Leadership is never ending'
To date, the format has tended to involve a dinner, often including an invited guest, followed by a day of working together. At one event, held at the Royal Society of Medicine, each invited a senior contact to take part in a roundtable discussion chaired by King's Fund chief executive Chris Ham. Other speakers have included Leadership Academy managing director Jan Sobieraj and transformation expert Helen Bevan.
Both Dr Feast and Ms Bolus believe the group, representing as it does the different parts of the health service, could be a useful resource for policy makers.
Meanwhile, they will continue with the meetings and continue learning. "Leadership is never ending," says Dr Feast.
"We feel very privileged that the NHS has invested in us in this way, and we hope we are giving something back."
Deep impact: Taking a leadership course further
1

2

Currently reading

'We wanted to give something back'