CCGs agree 18 month moratorium on individual funding requests as part of £1m savings package
Greater Huddersfield and North Kirklees CCGs have approved the proposal, which is expected to save £750,000.
Plans to stop prescribing products such as gluten free foods are expected to save a further £283,000 a year
Commissioners in Yorkshire have approved an 18 month moratorium on prescribing expensive, non-routine treatments as part of plans to save more than £2m.
Greater Huddersfield and North Kirklees clinical commissioning groups have approved a pause on paying for individual funding requests, which is expected to save £750,000 during the course of the moratorium.
The two CCGs have also agreed plans to stopped the routine prescribing of a range of products which is expected to save a total of £1.3m a year including £200,000 on gluten free foods.
The moratorium will begin "as soon as possible" and means requests by patients for more expensive brands of medicines will not be routinely supported where an appropriate generic medicine is available.
Individual funding requests will only be granted if:
the condition is immediately life threatening;
undue delay would result in a real and imminent risk of harm such as death, infirmity or disability; or
the procedure needs to be performed within a strict timeframe as delay would result in it becoming ineffective.
Greater Huddersfield CCG's governing body approved the plans last week, following a public consultation that received more than 700 responses.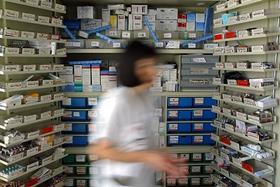 In a joint statement, the CCGs said the savings plan was motivated by "financial challenge".
North Kirklees CCG chair David Kelly said although many responses to the consultation supported the proposals, the organisations understand that some people will not.
He said: "Decisions like this are difficult and we know that some people will find them hard to accept, but the money saved can be spent on things that have much more of an impact on people's health."
The changes will come into effect this year and a review of the moratorium will be carried out after six months.
The CCGs have issued a list of products that will no longer routinely be available on prescription in the region, which is expected to save a total of £1.3m a year. These include:
gluten free foods;
sunscreens for skin protection from UV radiation;
soya and thickened infant formulas;
infant formula for lactose intolerance;
cream for unwanted facial hair and other products that have a predominantly cosmetic action;
emollient for minor skin conditions;
camouflage products, such as for port wine stain birthmarks; and
multivitamins where no specific deficiency has been identified.
Updated 3.50pm on 17 January, 2017, with new information from the CCG.
Source
CCG board papers and statement