Twelve CCGs say they will not commission flu antivirals because it would not be "cost effective"
Northern CCG Forum wrote to NHS England earlier this month
Public Health England and NICE both recommend using antivirals to treat flu
Clinical leaders across three sustainability and transformation partnerships are defying public health guidelines and refusing to commission flu antivirals, HSJ can reveal.
The Northern Clinical Commissioning Group Forum, covering the North East and North Cumbria, wrote to NHS England earlier this month to say it would not pay for antiviral drugs for influenza.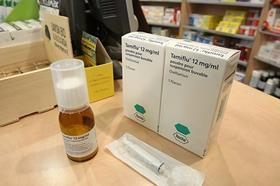 The decision follows a letter from NHS England telling CCGs it was "urgent" they commission appropriate assessment, prescription and supply of antiviral drugs.
Antivirals, such as Tamiflu, are prescription medications that may help prevent flu complications or shorten the severity and duration of flu once someone has it.
The use of antivirals is recommended by the National Institute for Health and Care Excellence and Public Health England.
Usually GPs in England may only prescribe them when the chief medical officer announces that flu is circulating within the community, but during the winter months the use of antivirals is recommended by PHE.
In the letter to David Geddes, head of primary care commissioning at NHS England, seen by HSJ, South Tyneside CCG chief executive David Hambleton said the evidence for antivirals was "very weak".
Dr Hambleton cited a Cochrane review, which he said found "very little benefit" from using antivirals.
He added: "After a debate at a Northern CCG Forum meeting, we collectively and unanimously concluded that this was not a service we would want to commission even though it is supported by NICE.
"We do not feel that this is in any way a cost effective intervention and, therefore, would not be expecting GPs or our out of hours providers to provide this service"
In September, a PHE report said: "PHE guidance recommends the targeted use of antiviral medicines for the treatment of or prophylaxis against seasonal influenza for specific clinical indications."
NHS England declined to comment.
However, Dr Geddes wrote to CCGs in June and November 2017 telling them to submit their antiviral strategy to PHE.
In June, he asked CCGs to clarify contractual arrangements for providing services to at risk patients and to inform PHE about these.
In November, Dr Geddes said while the flu vaccine remained the "first line intervention", NICE guidelines described the "benefits" of antivirals for at risk patients.
But Dr Geddes added: "For those CCGs that have not yet commissioned services to respond to a PHE centre HPT alert by ensuring appropriate clinical assessment, prescribing and supply of antivirals, this needs to be done with some urgency as we approach what is likely to be a challenging winter.
"If not already established, as a priority CCGs should advise their local PHE centre HPT about the arrangements which have been made for notification and activation of the local NHS response, seven days a week so that information about local [influenza like illness] outbreaks can be acted upon without delay."
The 12 CCGs in the forum are involved in three STPs: Northumberland, Tyne and Wear and North Durham; Durham, Darlington, Teesside, Hambleton, Richmondshire and Whitby; and West, North and East Cumbria. The three footprints are considering merging to form the largest STP in the country but this is yet to be approved.
The Northern CCG Forum
Darlington
Durham Dales, Easington and Sedgefield
Hambleton, Richmondshire and Whitby
Hartlepool and Stockton on Tees
Newcastle Gateshead
North Cumbria
North Durham
Northumberland
North Tyneside
South Tees
South Tyneside
Sunderland
Source
Information provided to HSJ
Exclusive: CCGs across region refuse to commission flu antivirals
1

Currently reading

Exclusive: CCGs across region refuse to commission flu antivirals

2