NHS England and NHS Improvement accused of "being removed from realities of life for our communities"
Healthwatch groups claim patients could see operations cancelled under savings drive
Public events being staged over capped expenditure plans
Two Healthwatch groups are urging regulators to put patients before finances after cash-strapped organisations were instructed to "think the unthinkable" to remain within restricted budgets.
NHS England and NHS Improvement are encouraging financially challenged commissioners and providers to consider controversial decisions such as extending waiting times or closing wards to meet "capped expenditure" totals for 2017-18.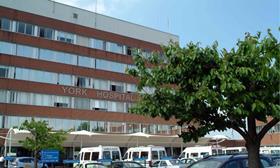 Vale of York Clinical Commissioning Group, Scarborough and Ryedale CCG and York Teaching Hospitals Foundation Trust form one of 14 areas currently under the capped expenditure regime.
However, Healthwatch North Yorkshire and Healthwatch York are calling on members of governing bodies to consider their roles "if they are expected solely to rubber stamp NHS England and NHS Improvement decisions".
In a joint statement, they said: "We urge NHS England and NHS Improvement to draw back from putting money above the safety of local residents.
"We ask that they put the health needs of our local community over balancing finances."
In a letter sent to providers in the capped expenditure areas yesterday, NHSI said organisations should not be considering plans that would breach patients' constitutional rights over elective care, and will need to ensure that patient safety and service quality are maintained, as concerns grow over the scale of the savings drive.
Ward closures, service cuts, restrictions on private providers and extended waiting times are all under discussion by system leaders and national regulators to cap spending and meet control total budgets in 2017-18.
Vale of York CCG forecast a £28.1m deficit for 2016-17 and Scarborough and Ryedale CCG was reporting a £1.6m deficit as the year ended. York Teaching Hospitals has committed to a £3m surplus control total for 2017-18.
However, the Healthwatch groups say north Yorkshire has not received its fair share of funding for years.
They said: "We call for our area to receive its fair share of NHS funding and recognition that our poor financial position is the result of an historic failure to address the changes in NHS funding formulas and the needs of rural populations.
"Our funding formula takes no account of rurality and has not been adjusted to deal with the introduction of payment by results.
"Other areas, already receiving more funding per head of population, have been prioritised for investment, placing our communities at a double disadvantage."
In a joint statement, NHS England and NHSI said: "The NHS has to live within the budget that Parliament allocates and it is grossly unfair if a small number of areas in effect take more than their fair share at the expense of other people's hospital services, GP care and mental health clinics elsewhere in the country."
The Healthwatch groups fear the capped expenditure process could force a 30 per cent reduction in planned care, ward closures and a postponement of constitutional targets including the 18-week and four-hour standard.
They said already overstretched GPs would have "limited options" for helping patients.
"These proposals would make it increasingly difficult to recruit new graduates to join an area where treatment options are cut to the bone," they said.
"Unchecked, north Yorkshire and York could become a demonstration of what a postcode lottery in health looks like."
The groups are planning events in July and August to encourage the public to speak out against the proposals.
Their statement added: "If this happens, decision making could be taken out of the hands of our local NHS leaders.
"NHS England and NHS Improvement would be given the power to veto or approve plans, whilst being removed from the realities of life for our communities."
Source
Healthwatch and NHS England/NHSI statements