'Serious question marks' over recording and reporting of waiting times for non-emergency patients at Portsmouth Hospitals Trust
Records suggest 12,000 patients have missed appointments in the past without a new date given
Report highlights concerns over tracking of hundreds of people awaiting inpatient treatment
Trust sets up clinical harm panel but says it has not substantiated report's findings
An acute hospital trust has launched a review of its patient records after external advisers warned thousands of people may have been put at risk of clinical harm due to missed follow-up appointments.
Portsmouth Hospitals Trust is receiving help from NHS Improvement's intensive support team after "serious question marks" were raised by MBI Health Group over the trust's tracking of non-emergency patients.
MBI was commissioned by the trust to analyse its outpatient and inpatient tracking and waiting lists.
The group's report, part of which has been obtained by HSJ, revealed:
concerns that nearly 12,000 long term outpatients may have been put at "significant clinical harm";
a lack of management of the waiting list for inpatients and day case patients; and
uncertainty over the current treatment status of hundreds of patients on waiting lists.
However, the trust said it had questions about "the entirety" of MBI's findings and it had "not substantiated" the conclusion that patients may have been placed at risk of harm.
MBI stood by its report and said the data analysed by its teams was provided "exclusively" by the trust.
The report, sent to the trust in May, found 11,940 long term outpatients had follow-up appointment dates that were in the past, with 443 appointments dating back as far as 2015.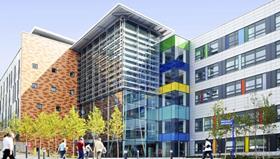 The specialties worst affected were gastroenterology, ophthalmology and cardiology.
The report said: "It is highly likely patients have come to clinical harm as a consequence of not receiving follow-up care or checks."
In response, the trust said it was "reviewing planned outpatient waiting lists" for the "small number of specialties affected".
"Any patient who has been identified as having cause for concern will have been personally contacted and brought in for further assessment at an outpatient appointment," a spokeswoman said.
The report also highlighted a discrepancy on the inpatient waiting list relating to more than 800 patients.
It said the trust claimed 7,870 patients were on "active referral to treatment pathways", but found the inpatient RTT patient tracking list tool listed 7,051 patients – leaving the extra 819 patients unaccounted for.
Management of the planned waiting list, for inpatients and day cases, was criticised in the report, with 500 patients having planned admissions that were in the past or missing entirely.
Some of the planned admissions dated back to 2010, while less than half of patients with admissions planned in the next three months had been allocated actual dates, the report found. Gastroenterology was the worst affected specialty.
The report also raised concerns over a "lack of grip" around the booking of urgent patients.
"Overall, MBI would conclude that there is a serious risk to patients at [the trust] – particularly those not on RTT pathways," the report said.
"In addition, we would have concerns that currently reported RTT waiting times are not accurate, and in fact, should be longer."
The trust last achieved the 18 week RTT target in June 2016.
The trust's spokeswoman said: "This [report] has flagged some important issues but there are questions about the entirety of their findings, and these are under interrogation.
She said the trust is working with "system partners" and the intensive support team to identify any potential concerns, which would be completed by early September.
"We have not substantiated the comments made by MBI that any of our patients have been placed at risk of harm," she said.
She added that the clinical harm review panel was set up with "system partners".
A spokesman for Portsmouth, Fareham and Gosport, and South Eastern Hampshire clinical commissioning groups said: "Work is also underway to ensure that processes are in place to ensure the robust and effective management of risk in the future."
An MBI spokesman said the group welcomed the set up of the panel, and added: "The trust is taking the necessary steps to resolve the data quality issues that were identified within the report."
NHSI said it had asked the trust's board to "assure data quality and capacity planning and complete a clinical harm review to give assurance to patients, patient groups, commissioners and the public as to whether any patients have been harmed".
"Through our ongoing oversight of the trust we will continue to support them and assure the improvements required," a spokeswoman said.
The trust has had a leadership change in recent months, with chair Sir Ian Carruthers stepping down at the start of this summer and Mark Cubbon becoming its new chief executive last month.
Source
Information provided to HSJ