Local authorities with high levels of council tax income could increase their social care spending by up to four times as much as more grant reliant authorities under the mooted "social care precept", analysis suggests.
Reports ahead of the autumn statement – to be delivered by George Osborne today – suggested the chancellor would announce that councils facing a social care funding crisis can levy a 2 per cent precept on council tax.
This power would be used on top of authorities' existing ability to raise the tax by up to 2 per cent without holding a referendum, according to reports.
A Treasury spokesman declined to comment.
The government has reportedly claimed the precept could raise £2bn by the end of the parliament in 2020. Analysis by HSJ's sister title Local Government Chronicle of councils' projected council tax income and spending on social care for 2015-16 found the policy could generate £385.4m in 2016-17 if all top tier authorities levied a 2 per cent increase.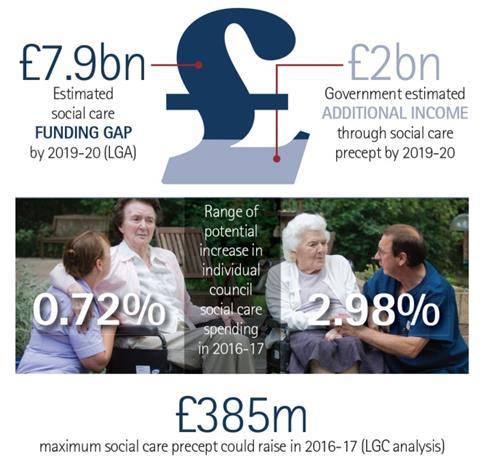 However, the Local Government Association has estimated that the funding gap facing adult social care is growing by an average of £700m a year and will reach £7.9bn by 2019-20. This is a result of cost pressures including rising demand, inflation, the introduction of the national living wage in April and a reduction in core funding.
Ray James, president of the Association of Directors of Adult Social Services, said that while Treasury recognition of the need to provide funding for social care was welcome, the precept was "no way near enough" and would tend to benefit affluent areas which get a much larger percentage of their revenue from council tax.
Richard Humphries, assistant director for policy at the King's Fund, said councils had been under political pressure from central government to keep council tax low, adding that the precept would "not address the growing pressures on the social care system".
Graeme McDonald, director of the Society of Local Authority Chief Executives and Senior Managers, said the policy would have a "differential impact" depending on a local authority's existing level of council tax and its council tax base.
"These two things don't necessarily correlate with the need in the area," he added.
LGC's analysis found the amount of additional funds individual councils could raise to spend on social care ranged from less than 1 per cent of current social care expenditure to nearly 3 per cent.
Wandsworth London Borough Council, which has the second lowest band D council tax this year according to Department for Communities and Local Government figures, would benefit least from a social care precept. A 2 per cent increase on Wandsworth's 2015-16 council tax income of £46.8m would raise an additional £936,925 to spend in 2016-17. This would be equivalent to a 0.72 per cent rise on its 2015-16 social care expenditure for the year of £129.3m.
By comparison, a 2 per cent increase in Rutland County Council's council tax income of £20.7m would raise £413,704, equivalent to a 2.98 per cent increase in the authority's current social care expenditure. The second biggest beneficiary would be Wokingham Borough Council, which could increase its social care expenditure by 2.8 per cent.
Across all councils the median potential increase in social care expenditure is 1.76 per cent.
Councils in the South East could raise an additional £72.6m to spend on social care next year, equivalent to a 2.1 per cent increase. Meanwhile, authorities in London, which spend more on social care, could raise just £54.6m, or an additional 1.49 per cent.
However, expected reductions in core grant mean councils are preparing to make further reductions in social care spending over the course of the parliament so even if all councils were to levy the precept social care spending would be unlikely to increase by as much.
Mr McDonald suggested the policy would give "political cover" to councils, particularly Conservative local authorities, to raise tax.
He added: "We would argue that local government should really have powers to raise its own income individually anyway so any restriction really is unhelpful. Some loosening, minor though it is, is obviously a step in the right direction but still a long way from where we need to get to if councils are going to be self-sufficient."