Only 3 per cent of those chronically infected with hepatitis C receive treatment each year. While there are examples of good practice underway, effective management is not yet replicated around the country. Alison Moore explains the reasons why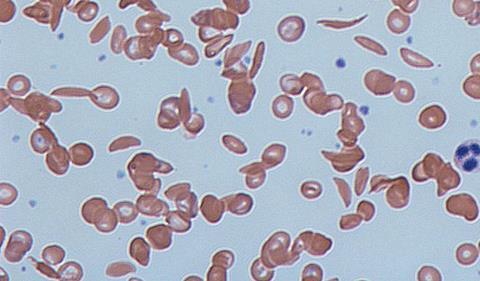 Sickle cells in human blood: both normal red blood cells and sickle-shaped cells are present
Over the last 20 years the UK has made steady progress in reducing premature deaths, but in the area of liver disease, they are still rising.
According to NHS England, the number of people who died with an underlying cause of liver disease rose by 36 per cent to 12,538 between 2001 and 2011.
Deaths from hepatitis C is the fastest growing segment of this, says Charles Gore, chief executive of the Hepatitis C Trust. In England, 0.4 per cent of the adult population - 160,000 people - are chronically infected with hepatitis C, which can lead to cirrhosis and liver cancer.
Only three per cent of those chronically infected with the disease receive treatment each year.
"There are all sorts of things that contribute to this [figure], including poor diagnosis and poor referral and poor pathways which people fall out of," says Mr Gore.
Who is most at risk?
In England, over 80 per cent of those diagnosed with hepatitis C have a history of injecting drugs at some point, and around 50 per cent of injecting drug users will have hepatitis C. This need not mean they are current drug users – they may only have injected once.
Mr Gore points to the baby boomer generation – those growing up in the 1960s, 1970s and 1980s – who may have experimented with injecting drugs in their youth as being at risk.
Other high risk groups include those who have received medical treatment abroad in areas with a high level of hepatitis C in the general population and poor infection control – for example, around sterilising or reusing medical equipment. In the rest of the world this is a common means of transmission. Areas with high levels of infection include Pakistan, some African countries and parts of Eastern Europe. The World Health Organization says 130-150 million people worldwide are chronically infected and 350,000 die from hepatitis C related liver disease each year.
Some people have also been affected by blood transfusions - hepatitis C was not tested for in donated blood until 1991.
Other methods of transmitting contaminated blood can also be a risk. For example, tattooing with unsterilised equipment, body piercing and sharing razors.
Nine per cent of HIV positive people in the UK are believed to be co-infected with hepatitis C. Infection is often linked to sexual risk factors but there may also be drug taking behaviour which increases the risk of infection. Hepatitis C testing is recommended as best practice for those who are HIV positive. The National AIDS Trust has called for increased health promotion around the risks of co-infection for HIV positive gay men.
Finally, in a small number of cases, there has been mother to baby transmission.
An inequalities issue
This is a major health inequalities issue: those affected by hepatitis C are often from marginalised groups such as drug users and ethnic minorities.
Mr Gore says: "In Scotland, one of the reasons why hepatitis C has been addressed so effectively is that it is an inequalities issue."
Work by the Hepatitis C Trust suggests that 48 per cent of those with hepatitis C admitted to hospital were from the bottom 20 per cent of society.
Research by the RAND Europe institute last year suggested that hepatitis C was already costing the NHS £83m a year in care costs, and this would increase to £115m by 2035 if current treatment patterns continued.
Although screening rates have increased over the last few years, even high risk groups sometimes do not get offered testing.
Some may be reluctant to come forward, perhaps fearing they will be stigmatised. Also, in a mobile population a positive diagnosis can be a barrier to getting work permits for some countries. Others will simply be unaware that they are at risk.
Geoffrey Dusheiko, professor of medicine and honorary consultant at the Royal Free Hospital Foundation Trust, says only 30-40 per cent of those infected in the UK have been diagnosed; Public Health England puts the number with hepatitis C in the UK at 215,000.
Those with undiagnosed hepatitis C may go on to infect others, for example through sharing drug taking equipment if they inject drugs, the most common route of transmission.
Diagnosis is through blood tests, which can be initiated in general practice or through drug and alcohol services and the voluntary sector. However, those who test positive will normally be treated in a specialist centre, which can be some distance from their home.
Many people were diagnosed in the 1990s when treatment options were limited. They may have fallen out of touch with services since then and may not realise their prospects have changed and there are now more effective treatments.
Hepatitis C in numbers
215,000 people in the UK are chronically infected with hepatitis C.
Overall, prevalence in England is 0.4 per cent of the adult population.
Around 15-30 per cent of people who contract hepatitis C will clear it from their body within six months; the remainder will be chronically infected.
Hepatitis C is the primary reason for around one in six liver transplants in England.
Deaths where hepatitis C is given as the primary cause rose from 98 in 1996 to 381 in 2011.
If current treatment rates continue, new cases of end stage liver disease or cancer resulting from hepatitis C are expected to rise from 1,170 in 2013 to 1,680 in 2033.
Increasing treatment rates could avoid a significant proportion of those cases.
A Herculean task
The current National Institute for Health and Care Excellence approved treatments need to be given for between 24-48 weeks, require frequent monitoring, weekly injections and can result in significant side effects in some patients. This may mean people abandon treatment prematurely or are reluctant to enter into treatment in the first place.
Helen Harris, who led the Hepatitis C in the UK in 2013 report by Public Health England, says: "It is quite a Herculean task to get through all of these therapies."
Because of the risks of non-compliance - combined with the cost of treatment - healthcare professionals may sometimes be reluctant to start people on treatment, especially if they are drug users.
Mr Gore believes drug users can lose out because of an unfair perception that they will not comply with treatment as their lifestyle is seen as too chaotic. However, the real issue can be how accessible services are, rather than willingness on the part of the user.
This means there are a large number of patients who know they have hepatitis C infection but have not received effective management.
While many will still be in touch with services and may be monitored and given advice including harm reduction, others may not, which may have implications for the onward transmission of the virus.
Josephine Schulz, a hepatitis C nurse specialist at Barts Health Trust, says her patients are offered three options: NICE approved drugs, a "watch and wait" approach for appropriate patients or a clinical trial, if they fulfil the criteria.
When people choose to wait, they are seen periodically to ensure they are not lost to the system. This is good practice but may not be replicated across the country.
London has a number of renowned specialist liver centres but Mr Gore says that services elsewhere are hugely variable and often dependent on individual clinicians with an interest in an area. His charity carries out mobile testing but finds some health economies have no pathway it can refer into.
The disease and its management
Hepatitis C – which has several different genotypes – affects 130-150 million people worldwide, according to the World Health Organization. Unlike hepatitis A and B there is no vaccine; however, treatment can be curative, indicated by the fact that the virus cannot be detected in the patient immediately after treatment and when re-tested later – usually six months after treatment has been completed.
Those with chronic hepatitis C may display no symptoms for a long time so the disease may be advanced by the time it is identified. Symptoms are non-specific, such as fatigue and flu-like illness, which may make it hard to pinpoint hepatitis C as a likely cause. Diagnosis is made through blood tests.
If left untreated, it can lead to the development of cirrhosis of the liver or liver cancer. This can occur several decades after the initial infection.
Until 1998 interferon was the main treatment. Since then patients entering treatment have been able to have a combination of NICE approved interferon and ribavirin, and more recently, direct acting antiviral protease inhibitors have been added to this.
Current NICE approved treatments include interferon, which is typically injected weekly for 24-48 weeks. In some patients, interferon may cause a number of side effects, including depression, nausea and tiredness. Some people find it hard to complete the course of treatment because of these side effects; others find it difficult to continue with normal life during treatment and may not be able to continue working, for example.
This article has been funded by AbbVie. AbbVie has had input into the content however the final editorial decision lies with HSJ.
Job code: AXHCV141059. Date of preparation: June 2014
Liver disease: How can the NHS reach those living with untreated hepatitis C?
1

2

Currently reading

One for all: Finding effective treatment for all hepatitis C patients