NHS could send more work to private hospitals to cut waiting list
Senior figures privately concede key waiting list target won't be hit
NHSE sources insist task is challenging but achievable
News comes as fresh fears about robustness of NHS winter plan also emerge
NHS bosses have set out an urgent plan which could result in significantly more patients being sent to private providers for routine procedures as fears grow the NHS will miss its flagship elective target, HSJ can reveal.
Senior sources told HSJ that some system leaders had privately already all but written off the NHS's chances of meeting its flagship 18-week elective target. NHS England however officially views the plan as a means to deliver the target, while accepting it is a hugely challenging task.
The elective waiting list in March 2018 stood at 3.84 million, but it has increased sharply and hit 4.11m in June, the latest official data shows (see chart below).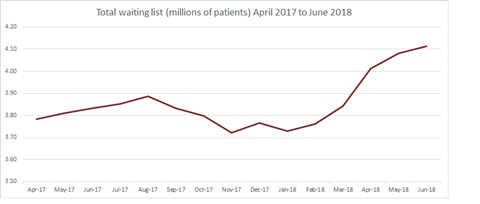 HSJ understands there are also increasing concerns the NHS is not as well prepared for winter pressures as it was last year (see Performance Watch).

The elective plans were outlined in letters sent to local commissioners by NHS England national director Matthew Swindells today, and a lettter to providers by NHS Improvement chief executive Ian Dalton last week.
Mr Swindells' letter stated that "significant under delivery of elective activity" mean planned trajectories "will not be delivered by most trusts".
It adds that by early September trusts which are behind on their elective trajectories must work with commissioners to draw up a contingency plan which sets out how "these gaps will be closed through use of capacity in other trusts and/or the independent sector".
"Any contingency plan for work carried out by other trusts or the independent sector should be available to mobilise by mid-September," it continues.
HSJ understands data will be gathered from all trusts to assess the projected national gap between planned activity and what is needed to meet the planning guidance commitment.

The service's 2018-19 planning guidance stated commissioners and providers should ensure their waiting lists are "no higher in March 2019 than in March 2018 and where possible, they should aim for it to be reduced".
The service has already long abandoned the target included in the government's mandate to the NHS that: "At least 92 per cent of patients on incomplete non-emergency pathways to have been waiting no more than 18 weeks from referral".
Once the assessment of waiting lists and activity is complete, system leaders will then need to weigh up what increase, if any, in the use private sector they will sanction, mindful of the negative impact it will have on the financial health of NHS trusts. HSJ's sources said the plan would then require ministerial level agreement.
The NHSE letter said local commissioners must also reduce 52 week waiters by at last 50 per cent, ensure patients not waiting for inpatient treatment are seen within 18 weeks, and deliver the new elective contingency plans with providers.
NHS Providers warned a significant private sector drive could "destablise" cash-strapped trusts and would simply mean "taxpayers paying a premium rate for an NHS surgeon to do a procedure that most could be doing at an NHS trust".
NHS Providers chief executive Chris Hopson told HSJ: "Current elective performance is concerning, and, on this trajectory, we will not be able to hold the waiting list and reduce the number of 52 week plus waiters as planned."
Trusts could not deliver the three core accident and emergency, 62 day cancer, and 18 week targets, within the existing staffing and financial constraints, he said.
"They feel that, a year ago [when NHS England published Five Year Forward View Next Steps in March 2017], they were given a clear signal that if they were forced to prioritise, there was a clear steer from the centre to prioritise A&E and cancer."
NHSI said in a statement that elective care expectations had been "supported by additional funding" and that managing the waiting list remained a "national priority".
An NHSI statement added: "Managing waiting lists continues to be a national priority… To support trusts further, we will shortly publish information on what NHS organisations can do to ensure patients receive high quality care this winter."