Read six reasons why specialist nurses in advanced practice should be on your agenda, plus for more on the benefits of specialist nurses, download the HSJ workforce supplement in full, sponsored by AbbVie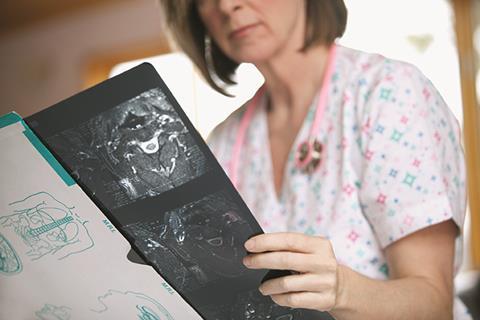 Be honest: are specialist nurses in advanced practice on your agenda? If you are a non-clinical member of the executive team, the odds are that the answer is no.
'Specialist nurses in advanced practice are perfectly placed to help with all the pressing agendas on your to do list'
They are likely displaced by the pressing need to deliver better care at lower cost, to work more efficiently with your partner organisations, to find ways to redesign services.
Yet experts say that the reality is that, if any of those issues are on your to do list, specialist nurses should be too. Members of this staff group:
Have knowledge of, and insight into, the entire patient pathway
Have high level expertise of the patient group for which they care
Have additional qualifications meaning they can perform advanced tasks - this may include ordering and interpreting tests and investigations, conducting physical assessments, and prescribing medications
Have considerable knowledge of the healthcare organisation in which they work, and of partner organisations
What that means is that specialist nurses in advanced practice are perfectly placed to help with all the pressing agendas on your to do list.
Care at reduced cost and increased efficiency
Ensuring the best use of hospital and consultant time
Specialist nurses in advanced practice can help ensure that patients are only in hospital when they need to be. Take the example of patients with inflammatory bowel disease, who tend to have periods when they are generally well and then periods when the condition flares up.
'Nurse specialists do some roles previously done by consultants, at a fraction of the cost'
Explains Helen Terry, director of policy, public affairs and research at Crohn's and Colitis UK: "You could have an annual review or a six monthly clinic appointment but it might fall at a time when you're really well, and you're having to take time out of work to attend clinic appointments when actually you don't need to be in the clinic.
"But you might then find it difficult to access that specialist support quickly at times when you really do need it. If you're flaring, the sooner you can get appropriate advice and moderations to treatment [the better]. And doing that does have huge implications in terms of ongoing healthcare costs but also in terms of the costs to individuals and their families."
Specialist advanced practice nurses are also expert at reducing unscheduled care - intervening before an issue drives a patient to A&E.
Freeing up the time of other members of staff
"Clinical nurse specialists are doing work that might otherwise be done by more expensive resources, and that can represent a real financial benefit," points out Jenny Ritchie-Campbell, director of services, strategy and innovation at Macmillan Cancer Support.
'They have a really keen eye on what makes a difference to their patients'
Paul Trevatt agrees. "I think you cannot afford not to invest in the specialist nursing workforce," contends the strategic clinical network lead for NHS England. "A number of the roles that nurse specialists do were roles that were previously done by consultants and now they're doing it at a fraction of the cost."
"Clinical nurse specialists come up with fantastic, innovative ideas about how they can mobilise different teams, different colleagues, different sets of finite resources to actually deliver high quality patient outcomes," says Chih Hoong Sin, director at research organisation and consultancy Office for Public Management (OPM).
"They have a really keen eye on what makes a difference to their patients and then they're able to behave in a way, and get others to behave in a way, which meets those needs."
As Liz Darlison, respiratory nurse specialist says: "If you manage them effectively and nurture them, I think you get a lot of bang for your buck with specialist nurses." Jill Firth, consultant nurse in rheumatology, adds: "There's really, really strong, multi-centre, randomised control evidence that nurse-led care produces equivalent outcomes at lower cost."
System leadership and service redesign
"Because specialist nurses in advanced practice really understand the patient pathway, understand patient need and how services are configured, they're excellent people when it comes to things like service improvement and service redesign," reports Alison Leary, professor of healthcare modelling at London South Bank University.
Bringing care closer to home and reducing the burden of long term conditions
Helping patients to help themselves
"I would say specialist advanced practice nurses are the key to self management in long term conditions," contends Professor Leary.
'Specialist nurses are pivotal to filling in the cracks in your service'
"They help patients understand when they should contact acute services - when it's appropriate to do so for that patient - but they also educate and empower patients to manage their own disease."
Making the right interventions and referrals at the right time
"The key thing about a lot of really specialist nursing is that it's primarily caring for patients who have long term conditions and who really need to be able to support their self care in the long term - which reduces the burden on all health services," says Ms Firth.
"Patients who we identify are not coping well and have lower levels of self-efficacy we can refer to a self management programme and to other resources."
Seamless, integrated, multidisciplinary care
Brokering care between healthcare professionals and other organisations
'Patients ask different questions and speak to nurses in a different way than they do to doctors'
"Specialist nurses are pivotal to filling in the cracks in your service, and making sure that the patient gets the best outcome," argues Sue Oliver, a nurse consultant in rheumatology.
"They provide continuity of care, the value of which is often underestimated by healthcare organisations but which is highly valued by the patient."
Caring for a patient at any point on their journey
"Our work stretches over the whole of the patient pathway," emphasises Julia Taylor, consultant nurse urology, Salford Royal Foundation Trust. "For cancer, that increasingly includes focusing on survivorship because there are many more people are surviving the disease."
Driving multidisciplinary care
Says Chih Hoong Sin: "I am constantly impressed by how clinical nurse specialists build partnerships and alliances across different professional groups - with social care, with community services, with GPs and so on, and that's all with an eye on a patient. That is very impressive."
Treating the person, not the condition
Delivering holistic, whole person care
'Specialists provide almost the glue in the middle of our department'
"As nurses we do look broadly at our patients," says Ms Darlison.
"We do see the holistic impact of ill health. My surgical colleagues, I want them to focus purely on the surgical techniques but my expertise is more about the impact of that on the patient and putting it into the context of life."
Breaking down the barriers between physical and mental healthcare
"Where people need psychological care as well as physical care, that's where specialist nursing in advanced practice excels," argues Professor Leary.
Excellent patient care and experience
Responding to patients' needs
"We use nurse specialists at all sorts of different levels within our department now, and they provide almost the glue in the middle - a person who can pick up concerns and action problems but can also provide a supportive, health promoter type role," explains Isobel Mason, nurse consultant in gastroenterology at Royal Free London Foundation Trust.
Offering accessible support and expertise
"I think patients ask different questions and speak to nurses in a different way than they do to doctors," adds Ms Mason.
"So where they won't want to bother a doctor, for example, or they will feel that a hospital consultant is two steps away from them, they can pick up the phone and speak to a specialist nurse and probably express different things.
"Certainly with inflammatory bowel disease patients, we know they absolutely want and need a doctor when they're needing expert medical attention. But the rest of the time, when they're making decisions that relate to their health and how they're living in the world with their illness, actually they find it much easier having those conversations with nurses."
Claire Read: Making a special case
This is an age of unrelenting pressures on the health service. Money is lacking and demographics are changing. Long term conditions are in the ascendant and care is becoming more complex and fragmented as a result.
With this long list of pressures, healthcare leaders could perhaps be forgiven for not focusing on specialist nurses in advanced practice. Not least since there has sometimes been a perception that these nurses - senior, highly expert, and with strong leadership abilities - are more of a problem than a solution.
There has been talk of how costly they are, that they do not combat the real pressures being faced, that they move care closer to bursting-at-the-seams hospitals rather than away from it.
Yet the evidence points to quite the opposite. Research study after research study has shown that such nurses can lead to savings, to greater efficiencies, to better outcomes. They bridge gaps in the system, leading to a more seamless patient journey. They lead innovations. They help keep patients closer to home and out of hospital.
For this supplement, we have spoken to a range of individuals to explore these contributions. In the pages that follow, patients, researchers, academics, healthcare managers and those working in charities and patient support groups - as well as nurses themselves - share their perspectives on the difference specialist nurses can make.
In so doing, the case is made that this is a workforce of which every healthcare leader should be aware - and in which they should consider investment.
Specialist nurses have many titles. In this supplement we recognise the title "specialist nurse in advanced practice" to be most useful, because it accurately reflects the four main work domains identified by the Nursing and Midwifery Council (advanced clinical or professional practice, facilitating learning, leadership and management, and research practice).
Where other titles are used in interviews for this supplement, for example "specialist nurse" or "clinical nurse specialist", these should be understood as synonymous with our preferred term of "specialist nurse in advanced practice".