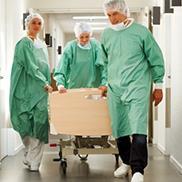 Not one of the NHS' major hospital trusts hit the four-hour 95 per cent standard in November as performance across core metrics plummeted to new lows in the face of record demand.

Trusts have been given the green light to offer a stop-gap "solution" to their senior clinicians which aims to tackle the pensions crisis gripping the health service.

Hospitals in England have been forced to close more than 1,100 hospital beds over the last week because of norovirus — almost double the number than during the same period last year.

Officials have restarted the distribution of a Flu vaccine for one million children following "concerning delays".
The health service is scrambling to provide additional funding to some hospitals to mitigate a crisis in emergency departments – despite the government not providing a formal "winter fund" this year – HSJ has learned.

The NHS pensions crisis has almost "washed away" the benefit from the government expanding medical trainee numbers and opening new medical schools, one of the UK's top doctors has warned.

NHS England appears increasingly likely to recommend a major overhaul — and potential scrapping — of the four-hour accident and emergency target, statements issued today suggest.

The NHS will continue its no-deal Brexit preparations despite ministers standing down cross-government planning for crashing out of the EU.

The NHS will be exposed to more risk by the government's latest Brexit deal than by Theresa May's original agreement, health service experts and lobby groups have told HSJ.

A failure to provide the right models of care is forcing thousands more people to attend emergency departments each day, the Care Quality Commission has said, while warning of a "perfect storm" for the health service this winter.

Simon Stevens has urged trust bosses to "think carefully" about how many beds they have open this winter and said "ideally" there should be more in total than last year.

Changing the NHS' culture from "aggressive command and control" to "support and improvement first" will be a "clear test" for NHS England and Improvement, particularly this winter, the chief executive of NHS Providers has said.