Migration Advisory Committee agrees to "reluctantly" keep nursing on the shortage occupation list
Chair says Department of Health needs to "get its act together" on workforce planning
Health Education England would have commissioned 3,000 extra nursing places in 2016-17 if not for financial cuts
A nationwide shortage of nurses has been driven by a desire from the government to save money, according to a damning report.
The independent Migration Advisory Committee heavily criticised the Department of Health, Health Education England and NHS trusts for not recognising obvious warning signs over a number of years and highlighted that similar financially driven decisions were being made again.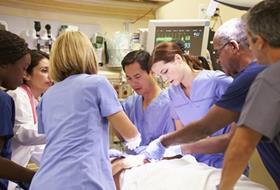 It revealed on Thursday that HEE would have commissioned 3,000 extra nurse training places for 2016-17 but financial cuts following November's spending review meant it commissioned only 331 extra places – a tenth of what was needed.
The committee warned that the UK was in the grip of a national shortage of nurses and said it would "reluctantly" recommend the home secretary keeps nursing on the immigration shortage occupation list.
It said adding nursing to the shortage list would meet an expected demand by NHS trusts for non-EU nurse immigration of 11,000 by 2020. The committee suggested the annual number be capped at 3,000-5,000 a year.
Committee chair Professor Sir David Metcalf told HSJ: "The Department of Health needs to get its act together. Almost all of the reasons why there is a shortage should have been anticipated by the DH and other related health bodies."
He said there "was no good reason why the supply of nurses cannot be sourced domestically", adding that there was presumption by the NHS and government that non-EU nurses provided the NHS with a "get out of jail free card".
In the conclusion the report said: "It is clear to us that the current shortage of nurses is largely of the health, care and independent sectors' own making.
"The sectors failed to train enough nurses or failed to make provision to train their own nurses should the supply of publicly funded nurses fail. They have taken either no or insufficient account of the needs of other sectors when making their planning assumptions. They restricted pay growth. They have complex institutional structures, which blur the decision making process and lead, amongst other things, to poor information and data making it difficult for them (and us) to understand and respond meaningfully to labour shortages.
"They did not learn the lessons from the late 1990s-early 2000s when a similar shortage (and reliance on foreign nurses) occurred. Almost all of these issues relate to, and are caused by, a desire to save money. But this is a choice, not a fixed fact. The government could invest more resource if it wanted to."
The committee said it was "self-evident" that a cut of 4,800 in nurse training places between 2009-10 and 2012-13 was a "significant contributing factor" in the current shortage with no corresponding fall in demand.
More findings from the MAC report
Non-EU nurses were found to be paid £6,000 less than equivalent UK workers. After unsocial hours pay was included the difference remained £3,000-4,000.
The overall vacancy rate for nurses in England is 9.4 per cent – almost double the NICE recommended level. In London some trust vacancy rates were 17 per cent.
Median pay for nurses is £31,500, which is £7,500 below the median pay in other graduate occupations.
Nurse turnover has increased from 7.8 per cent in 2008-09 to 9.3 per cent in 2014-15.
Current predictions by HEE that supply will meet demand by 2019 do not factor in the needs of the care sector.
NHS trusts are failing to use existing flexibility in Agenda for Change to increase pay to attract and retain nurses.
To maintain real terms pay value, the median wage for nurses needed to increase by 16 per cent between 2010 and 2015.