Nine in 10 hospital sites fail to achieve own nurse staffing plans
Chief nurses insist recruiting substantive nurses will save the NHS money
Hopson: "Not enough clarity and consistency in the system" over staffing
More than nine out of 10 acute hospitals in England are failing to meet their own targets for the numbers of nurses working on wards – a significant decline from earlier this year, analysis by HSJ reveals.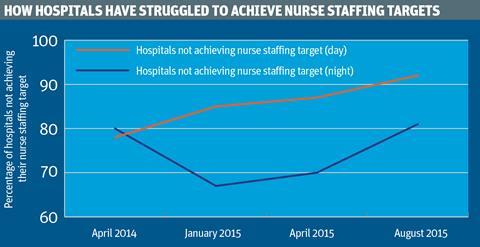 According to safe staffing data reported by 225 acute hospital sites in England, 207, or 92 per cent, did not achieve their planned staffing levels for qualified nurses working during the day.
The data, published on the NHS Choices website, also showed 182 hospitals, 81 per cent, failed to have enough registered nurses working at night to meet their plans.
In total, 178 hospitals, or 79 per cent, missed their target for registered nurse staffing across both day and night.
The data, collected by HSJ last month, shows the average staffing levels across the 225 sites in August and reveals a worse position for nurse staffing compared to data for January. In that month 194 hospitals out of 229, or 85 per cent, missed their staffing targets for nurse day hours.
In April, 87 per cent of trusts missed their target for registered nurse day hours.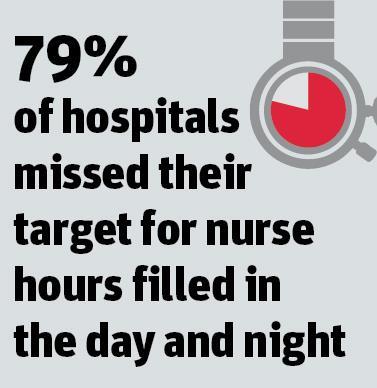 The deterioration in performance may reflect trusts increasing their planned levels for registered nurses on wards following safe staffing guidance from the National Institute for Health and Care Excellence published last year.
The NHS is struggling to recruit nurses due to a national shortage, while providers are also forecasting a collective deficit of £2bn this financial year – in part due to the use of expensive agency staff.
HSJ has been told some trusts feel they are in a "no win situation" as increasing their nurse establishments at this time means they run the risk of a high vacancy rate, which could attract criticism from the Care Quality Commission.
NHS Providers chief executive Chris Hopson said it was clear acute trusts were under "significant pressure around the recruitment of permanent staff".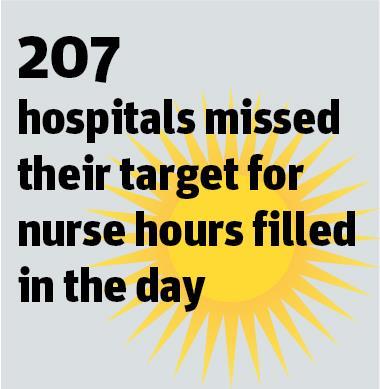 He added: "One of the biggest issues facing the NHS is how we balance the pressure around finance and the demand around staffing levels.
"Our members tell us they still don't think there is anything near enough clarity and consistency in the system about how that balance should be struck."
Eleven hospitals had less than an 80 per cent fill rate against the planned level of registered nurse day hours. Sixty-nine had a fill rate of 80-90 per cent, with the majority having a fill rate of 90-100 per cent.
Monthly reporting of safe staffing date was made a requirement following the Francis report into poor care at Mid Staffordshire Foundation Trust. The data shows an average performance across an individual hospital's total wards, meaning some specific wards can have substantially different levels from those shown for the whole site.
The data is also based on each hospital's staffing plans, which vary between organisations, so trusts with significantly more ambitious staffing levels may perform worse than those with a lower, easier to reach target.
The five hospitals struggling most to fill planned nurse hours, August 2015
Trust
Hospital site
% of nurse day hours filled
% of nurse night hours filled
Bradford Teaching Hospitals FT
St Lukes Hospital
72
98
Ashford And St Peter's Hospitals FT
Ashford Hospital
75
100
Sandwell and West Birmingham Hospitals Trust
Rowley Regis Hospital
76
74
Sandwell and West Birmingham Hospitals Trust
City Hospital
77
66
The Royal Wolverhampton Trust
Cannock Chase Hospital
77
92
Cheryl Etches, chief nurse at The Royal Wolverhampton Trust, said her trust was planning to recruit 200 nurses from overseas in addition to local graduates.
"The position we are in has been triggered by the Francis report, let's be honest," she said.
"The Francis report absolutely put the nursing role as a central issue and we would be foolish to disinvest in nursing. If you want better quality care, better length of stay, better efficiency, less harm, less complications and errors, you don't want to be reducing your nursing staff."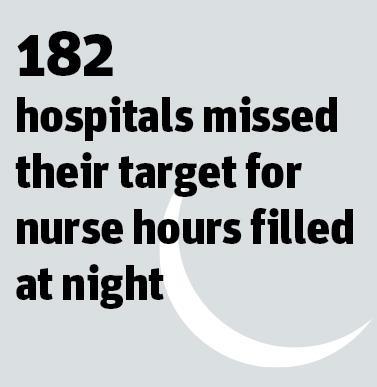 Ashford and St Peter's Hospitals FT chief nurse Heather Caudle said her trust had struggled to retain nurses recruited from Portugal, while 60 non-EU nurses had been left waiting 10 months to get immigration clearance.
She added: "The nurses we do have are leaving to go into agency work so I do think the agency cap is a good thing as we will see good nurses come back into the NHS. The issue for the NHS isn't about reducing the number of substantive staff to save money; it is about recruiting substantive staff to save money."
Sandwell and West Birmingham Hospitals Trust had two hospitals in the bottom five for filling planned daytime nurse hours (see table, above).
Trust chief executive Toby Lewis told HSJ he believed there were data accuracy issues with the staffing levels, but added: "Our daily data on staffing safety, overseen by the chief nurse's team, provides a basis for our confidence in the care that we provide. We invited the [NHS Trust Development Authority] to visit us this summer to review the position and offer us advice, which we have implemented."