Health secretary Jeremy Hunt is set to announce a 25 per cent expansion in the number of funded medical student places from 2018 in a bid to make the NHS less reliant on overseas recruitment.
Reforms being launched at the Conservative Party's annual conference in Birmingham today also include a requirement for newly qualified doctors to stay in the NHS for a minimum of four years.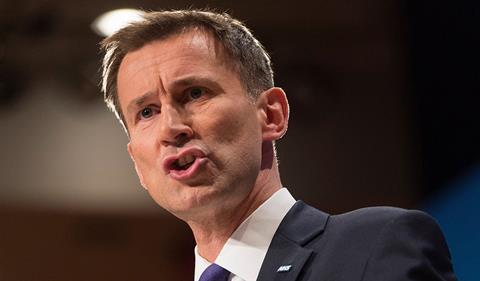 The policy is expected to cost £100m over the 2015-20 comprehensive spending review period. Some costs will be met by an increase in the amount paid by overseas students, whose placements are currently funded by the NHS.
There is not expected to be any new money to fund the increase in doctor training places, meaning they will have to be paid for from existing budgets. However, ministers believe that in time it could lead to lower locum costs.
In his speech this afternoon Mr Hunt is expected to announce a new commitment to fund an additional 1,500 medical student places. Applications will open in 2017-18 and the places will become available from the start of the 2018-19 academic year.
Mr Hunt is expected to say: "Currently a quarter of our doctors come from overseas. They do a fantastic job and we have been clear that we want European Union nationals who are already here to be able to stay post-Brexit.
"But is it right to import doctors from poorer countries that need them whilst turning away bright home graduates desperate to study medicine?"
By the end of the next parliament, Mr Hunt will say, the NHS will be "self-sufficient in doctors".
The requirement for NHS-trained doctors to remain within the service for at least four years after graduation mirrors the approach taken for students whose tuition is funded by the armed forces.
Health Education England's budget was frozen in cash terms in last year's comprehensive spending review.
Hunt pledges £100m to make NHS 'self-sufficient' in doctors
1

Currently reading

Hunt pledges £100m to make NHS 'self-sufficient' in doctors

2

3