NHS Improvement has published the first of seven new safe staffing guidance documents
The work follows the suspension of NICE's work in 2015 following the Francis Inquiry
Guidance warns trusts against relying only on professional judgement to set staffing levels
Decisions about how many nurses work on hospital wards cannot be left to individual judgements but need to be evidence based, according to draft guidance published by NHS Improvement.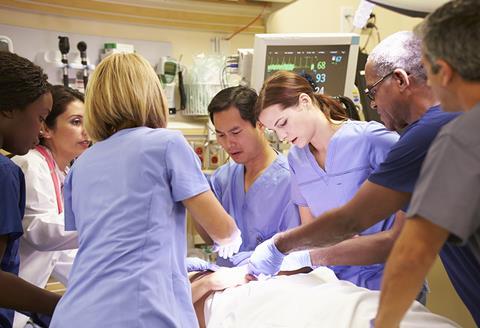 The new acute adult inpatient guidance says trusts should "triangulate" information such as the rate of falls, pressure ulcers and other ward data including complaints and staff sickness using evidence based acuity tools to calculate staff numbers.
It warns trusts not to rely solely on professional judgements, which it says "are considered subjective and may not be transparent" adding that "a triangulated approach" was needed.
The document says trusts should then benchmark themselves against other organisations using a new care hours metric – a simple headline measure which shows only the average hours of care provided per patient by nurses and healthcare assistants. Trusts should only use professional judgement to address specific local issues, the guidance says.
It is one of seven safe staffing resources due to be published for consultation in coming months and says boards should hold a strategic review of staffing at least annually.
The work has been carried out by NHS Improvement after NHS England and the Department of Health suspended work on safe nurse staffing by the National Institute for Health and Care Excellence last year. Leaked documents from NICE showed it was intending to recommend minimum nurse ratios in accident and emergency departments.
The Francis report recommended NICE should draw up "evidence based tools for establishing what each service is likely to require as a minimum in terms of staff numbers and skill mix".
As expected, the new guidance does not establish a firm recommendation on minimum nurse staffing levels but does support the continued use of the one nurse to eight patients ratio, highlighted by NICE as an evidence based point at which harm starts to occur.
The guidance largely repeats previous advice to trusts on staffing. Boards have been required to consider staffing levels regularly following the Francis inquiry, and the National Quality Board recommended the use of acuity tools and ward level data in 2013. It is unclear what if any action will be taken by NHS Improvement, as a result of the new guidance, to ensure all trusts comply with its suggestions.
The document warns trusts not to rely solely on professional judgements which it says "are considered subjective and may not be transparent" adding that "a triangulated approach" was needed.
It says staffing levels should include uplifts for issues such as study leave and sickness and trusts should have "float" nurses who can be moved to different wards during times of peak demand.
Although the document includes reference to the importance of multidisciplinary staff it accepted "there is little workforce modelling or planning evidence on how this has been successfully achieved".
While also acknowledging the involvement of non-registered nursing care staff it makes clear "the registered nurse hours must always be considered in any benchmarking alongside quality care metrics in order to assess the impact on patient outcomes".
It includes a basic process trusts can follow to determine whether staff other than nurses could provide specific aspects of patient care. The chief executive of the Royal College of Nursing, Janet Davies, has previously warned of the dangers of viewing nursing as a task based role which can be divided up to other staff.
The guidance was produced by an independent committee for NHSI chaired by Hilary Chapman, chief nurse at Sheffield Teaching Hospitals Foundation Trust.
Alongside the guidance, it has published summaries of existing evidence on nurse safe staffing to help inform local decisions.
One of the summaries, prepared by Southampton University, said: "While the odds of adverse outcomes were generally increased when average staffing fell below the 1:8 threshold, better outcomes were often associated with higher staffing levels and ratios of 1:7 and lower.
"For some services, significant increases in risk occurred well below this threshold. While not giving a clear 'safe' staffing level this evidence reinforces that a 1:8 threshold represents a level at which risk is known to be increased, not an optimal, safe staffing level."
Alongside the guidance for adult wards NHSI has also published draft guidance for safe staffing in learning disability settings (see links below).
A consultation on the documents will run until 3 February.