New report exposes systemic failings in care of four year old boy at Bristol Royal Hospital for Children
Sean Turner was denied the best possible chance of survival because of failings by doctors and nurses in 2012
Ombudsman report contradicts findings by earlier NHS England commissioned review
A litany of failings in the care and treatment of a four year old boy who died at a specialist children's hospital were so severe they amounted to service failure, according to a new investigation.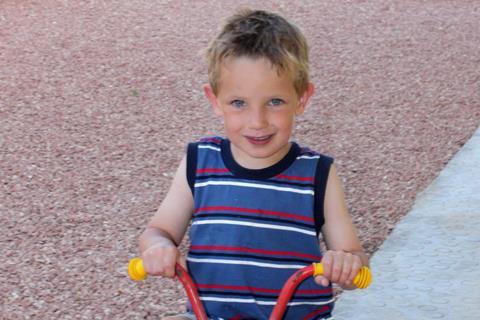 The damning report, seen exclusively by HSJ, reveals a list of 22 failures by nurses and doctors at Bristol Royal Hospital for Children and also casts doubt over the conclusions of an earlier independent review of the case which was commissioned by NHS England.
Sean Turner, who died in March 2012, was left so seriously dehydrated due to poor management of his condition by hospital staff that his parents described him as sucking moisture from wet wipes.
He died from a bleed on the brain following major heart surgery following weeks of poor care. In one incident staff at the hospital gave him clot-busting treatment for three days instead of the recommended six hours and failed to stop his blood-thinning medication at the same time when they should have done.
The facts of what happened have been laid bare in a new inquiry into his death by the Parliamentary and Health Service Ombudsman, which found University Hospitals Bristol Foundation Trust guilty of maladministration for failing to be open and transparent with Sean's parents, for giving them incorrect statements and for denying Sean the "best possible chance of survival".
The report found that after his surgery Sean was admitted to a 16-bed ward as the trust did not use high dependency beds at the time. His deterioration was not picked up by intensive care outreach nurses.
The PHSO report concluded: "We find these failings mean that the care and treatment the trust provided for Sean and the support Mr and Mrs Turner received fell so far below the applicable standards and established good practice that it amounted to service failure."
It said Sean "did not receive the best post-operative care and this in turn meant he was not given the best possible chance of survival", adding: "The distress Mr and Mrs Turner have suffered, and continue to suffer, will undoubtedly be compounded by the uncertainty – however small – of never knowing whether Sean might have survived."
Some of the 22 failings in Sean's care identified by the PHSO
Systemic failings by outreach nurses who did not provide the standard of care expected under the Nursing and Midwifery Council code and failed to recognise, report or escalate concerns about Sean's deteriorating condition.
Nursing documentation was inadequate and some records have gone missing.
Sean's fluid input and output was not measured accurately by ward nurses and he was allowed to become "significantly hypovolemic" – meaning a serious loss of bodily fluids as a result of him being so clinically dehydrated that his life was at risk. Despite signs of serious dehydration his dose of diuretic medication, which added to his fluid loss, was increased.
Sean should have been returned to intensive care when his condition deteriorated but he remained on a non high dependency ward.
Sean's anticoagulation treatment was not monitored in line with guidelines.
Doctors did not follow guidelines on clot-busting drugs and gave Sean a prolonged dose over three days instead of six hours, without assessing his response to the treatment. He was not given fresh frozen plasma during this treatment as he should have been.
Doctors did not respect Mr and Mrs Turner's right to a second opinion.
Sean's parents were misled by staff about the level of high dependency care their son would receive.
When a bleed on Sean's brain was suspected there was an inappropriate delay in arranging a CT scan and his blood thinning medication was not stopped.
The report, which is based on the views of nine clinical experts, has also contradicted specific findings of an NHS England review into Sean's care, which was published in June this year.
Sean's parents, Steve and Yolanda Turner, believe the NHS England review did not properly investigate the clinical care of their son and made judgements that amounted to a "whitewash" for them and other families who believe their children were also failed by the hospital. They believe there should be a fresh inquiry for all families affected.
The NHS England review of Sean's care found Sean was only mildly dehydrated. It also failed to highlight problems with the care provided by the intensive care outreach nurses' and did not conclude the care on the ward amounted to service failure. It said issues with Sean's anticoagulation treatment were "relatively small" and it did not address the failure to follow guidelines on clot busting treatment.
Mr and Mrs Turner told HSJ: "The PHSO did a proper investigation. The NHS England review did not and seemed to rely heavily on what they were told by hospital staff, without proper independent and objective assessment, taking into account established best practice.
"We knew how dehydrated Sean was because of how much he was grabbing the wet wipes and sucking the moisture out of them, his general deterioration and the amount of fluid he was losing in his drains. When we saw the NHS England report it was quite a shock for us that they found he was only mildly dehydrated, with no cause for concern, when there is plenty of evidence to show how poorly he was."
They said the NHS England review "played down" the fact that they were told that the ward was high dependency when it was not. "The PHSO confirms we were misled."
Mr Turner added: "We feel such guilt for letting him down, we put him in the hands of the wrong team at the wrong hospital."
Responses to the PHSO report
Eleanor Grey QC, who conducted NHS England's review of Sean's case, told HSJ the clinical reviews of more than 20 individual cases where concerns had been raised by parents were carried out by independent experts who questioned hospital staff and reviewed evidence such as clinical records.
She said: "The review was not under an instruction to deliver a 'less clinical' investigation of each child's case. Our terms of reference required us to look at the children's cardiac service as whole. We worked to deliver both a thorough and fair review of a child's individual care, and also the delivery of services more generally."
The review did contain criticism of the trust's failure to provide a high dependency unit model and questioned the ability of outreach nurses to provide support. It did conclude parents were let down on occasion but said there were not problems on the scale of that revealed by an earlier public inquiry into the hospital in 1999.
Robert Woolley, chief executive of University Hospitals Bristol FTt, told HSJ he was "deeply sorry for our failings in care and for the impact they had on Sean and his family. We want to get our care right for every child, every time, and I bitterly regret that we didn't do this for Sean. I am also very sorry that we compounded their grief by giving inaccurate and incomplete responses to their subsequent complaint."
A spokeswoman for NHS England said the review by Eleanor Grey and Sir Ian Kennedy was independent. She said NHS England had not seen the PHSO report and was "unable to examine its outcomes in detail".
Source
Report and information provided to HSJ