HSJ analysis of data from the latest General Medical Council national training survey has revealed the top and bottom trusts for overall experience for junior doctors.
The data also reveals the top and bottom trusts for junior doctors' experience within specific departments.
HSJ has analysed scores from 2017, 2018, 2019, and 2021. The scores below are out of 100 and the red and green highlighted boxes show whether a trust is significantly below or above average in terms of 'overall satisfaction', according to the survey.
The 2020 data is not comparable because the GMC used a shorter survey with specific questions about the pandemic, which could not be benchmarked to previous years.
The 2021 data revealed Leeds Community Healthcare Trust was ranked bottom for 'overall satisfaction' out of the trusts for which there were more than three respondents. The trust performed above average in the 2018 survey, but has fallen to below average over the last three years.
Leeds Community Healthcare medical director Ruth Burnett told HSJ the number of eligible survey responses was "very low" — only five trainees completed the survey — and questioned the validity of the data "when compared to trusts with large numbers of trainee responses".
However, she added: "The information is important to us and we will seek to understand it better and learn in order to improve our training offer. Our training survey results in previous years have been significantly better, and I will be working with our medical education team and medical leads to understand how we can improve our response rate and trainee satisfaction."
United Lincolnshire and Northern Lincolnshire and Goole hospitals stand out for consistently low scores for several years since 2017.
Specialists dominated the top five ranked trusts, apart from Northamptonshire Healthcare Foundation Trust, which came fourth top overall.
Specialist hospitals tend to have better staffing ratios, less intense on-call rotas, and more research opportunities, while their trainees tend to want to work in the specialism and so have higher job satisfaction.
Bottom trusts

Top trusts
Meanwhile, different departments within Northern Lincolnshire and Goole Foundation Trust appeared three times among the trusts with the lowest 10 'overall satisfaction' scores, with the gastroenterology department at the very bottom.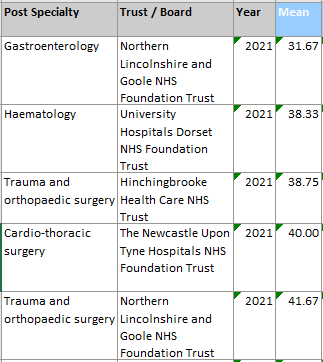 The trust's medical director Kate Wood said: "We were disappointed that some of our trainees in gastroenterology did not have a good experience with us."
She added: "We have had significant staffing shortages in this department, which has had an impact on the level of training and supervision we have been able to provide, which was made worse due to a number of staff needing to shield during the pandemic."
Dr Wood continued: "We have changed the way we provide access to training and supervision, recruited a former trainee into post, established a new junior doctors forum and have introduced [a] new way for trainees to give their feedback with the aim to earlier identify any issues and make changes where necessary."
University Hospitals Dorset FT's haematology department was close behind Northern Lincolnshire in the results. A spokesman said the trust would study the survey data carefully, adding it was proud of the training provided to junior doctors.
Among the top departments were histopathology at The Royal Marsden FT and paediatric cardiology at Guy's and St Thomas' FT.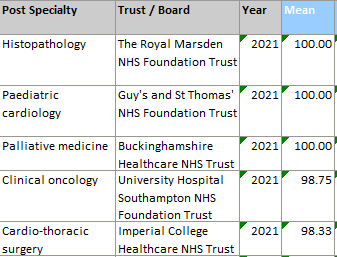 Update - This story was updated on 8 November. The original story referred to Sussex Community FT being among the bottom five ranked trusts. However, HSJ understands the trust has since successfully disputed the accuracy of the data with the GMC. We have, therefore, removed references to the trust in this article.