Whittington Health confirms Alan Farnsworth no longer director of UCLPartners Procurement Service or trust's head of procurement
Questions remain over investigation into UCL PPS governance
Membership organisations bulk buys products for trusts with combined turnover of £2bn
STRUCTURE: The trust hosting one of England's largest procurement partnerships has confirmed the organisation's director is no longer in his post.
Whittington Health Trust confirmed to HSJ that Alan Farnsworth was no longer director of UCLPartners Procurement Services or head of procurement at the trust.
HSJ reported earlier this month that a senior member of staff at the trust was dismissed in December after a disciplinary hearing. The north London trust would not confirm whether this was Mr Farnsworth but said he was "no longer a director of UCL PPS or head of procurement at Whittington Health".
The membership body buys in bulk for five organisations with a combined turnover of more than £2bn: Great Ormond Street Hospital for Children Foundation Trust; Royal Free London FT; Moorfields Eye Hospital FT; North Middlesex University Hospital Trust; and Whittington Health.
Each trust has a representative on the board of the consortium, which also has its own director.
The disciplinary investigation started in October, Whittington Health confirmed.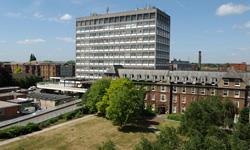 The trust would not say whether further investigations were ongoing. A trust spokeswoman said it could not disclose some information requested by HSJ because of an exemption under Freedom of Information Act legislation relating to "ongoing and confidential investigations".
Whittington Health would not answer other questions about Mr Farnsworth, including any connection between him and a now dissolved company called Procurement Benefits, which listed him as a director.
This company also listed Lucy Twinn as a director. Lucy Hutchins is listed as "special projects" lead on the UCL PPS site and Ms Hutchins' LinkedIn page describes her as "principal consultant" at Twinn Consulting.
The profile says her "primary responsibilities" are as "head of benefits, plans and projects at UCLPartners Procurement Service, programme manager for UCL PPS trusts benefit programmes and setting up of a benefits delivery team to deliver further financial savings, supporting complex trust projects and aligning UCL PPS with trust business priorities, project manager for the implementation of UCLPartners Procurement Service".
UCL PPS has 130 staff hosted by Whittington Health.