Clare Panniker will head new leadership team running three Essex trusts
The financially challenged trusts have combined revenues of £840m
Providers need to implement substantial reconfiguration of acute services
The work is part of the mid and south Essex success regime
Clare Panniker, the chief executive of Basildon and Thurrock University Hospitals Foundation Trust, is to head up a new leadership team overseeing three hospital trusts under an unprecedented new "group" model.
The new leadership team will run the three struggling Essex trusts, which have combined revenues of £840m, as a "network" of hospitals with a flexible workforce, according to documents seen by HSJ.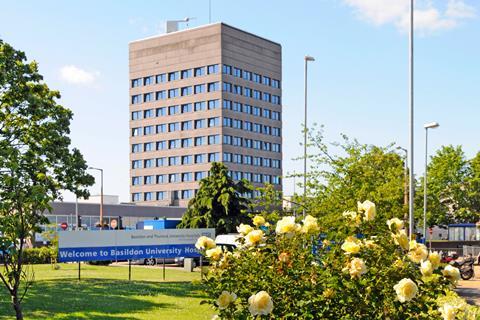 The proposals, part of the mid and south Essex success regime project, involve Basildon; Southend University Hospital FT; and Mid Essex Hospital Services Trust.
Ms Panniker will retain her role as chief executive of Basildon, but will take on the new post of "lead chief executive" of the leadership group, which will "ensure collaboration and improvements to patient care across the three hospitals".
A statement from the trusts said Sheila Salmon, chair of Mid Essex, will chair the "joint committee", while Southend chair Alan Tobias will be vice chair. Ms Panniker "will lead the change programme for the acute hospital trusts and will be the lead chief executive".
The statement added: "The main role of the joint committee is to drive forward collaboration and assure the success regime change programme for acute hospital services. It will not replace the current statutory governance arrangements for the three trusts."
"Collaboration between the three hospitals aims to improve staffing levels in some specialties, reduce duplication and costs and improve outcomes for patients. This is part of a wider plan to put the health system back into financial balance by 2018-19 and deliver the best joined up and personalised care for local people."
HSJ has learned system leaders have also instructed recruiters to hire a group chief finance officer and a "programme director" for the new leadership team. A job advert said the programme director would "strategically lead the development of the group model including supporting clinical and back office support service transformation".
System leaders hope the new structure will pave the way for a significant reconfiguration of acute services as they grapple with how to balance an estimated £216m overspend across the mid and south Essex health economy by 2018-19.
Ms Panniker has earned the respect of senior NHS leaders and politicians after leading Basildon out of special measures. She was number eight in HSJ's Top Chief Executives power list, which was published earlier this month.
Ms Panniker's appointment follows HSJ reporting last month that the three trusts were working on establishing the new group structure, which she had been leading.
An internal document seen by HSJ said the unprecedented "group model" would run a network requiring a "flexible workforce". Back office and clinical support functions could be shared to cut costs under the model.
The document also suggested there are "several potential 'givens'" around some key decisions on what trust should host which specialist services in the network.
It said Basildon Hospital's cardiothoracic centre could take on heart and lung work; the St Andrew's Centre at Broomfield Hospital run by Mid Essex is the regional plastic surgery and burns service and should remain so; Southend University Trust's cancer support centre could take on specialist oncology services.
The optimal locations for other services, including, stroke, paediatrics, elective surgery, gynaecological services, are still under consideration.
The success regime was launched as the service's flagship programme to turn around areas with serious care quality, performance and financial challenges. It is jointly run by Monitor, NHS England and the NHS Trust Development Authority.
Source
Statement and information obtained by HSJ