Basildon takes 'very unusual step' due to lack of beds for new admissions
Trust forced to 'cancel significant amounts' of elective work
Move follows similar action taken at nearby Southend just weeks earlier
Basildon hospital was forced to call its first internal critical incident in "years" and cancel "significant amounts" of elective work last week due to a lack of available beds.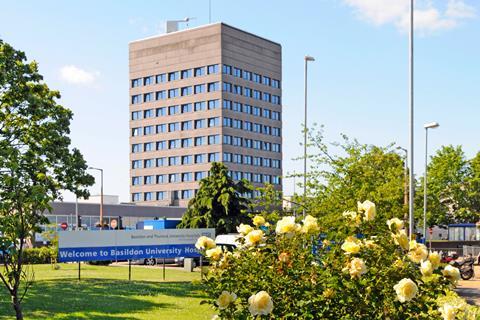 Basildon and Thurrock University Hospitals NHS Foundation Trust
Basildon and Thurrock Hospital Hospitals Foundation Trust said emergency admissions reached such a high level that staff were not able to tell admitted patients how long they would have to wait for a bed.
The trust was forced to upgrade from a "black alert" to internal critical incident on Thursday. A spokeswoman said this had lasted "under 24 hours" and had been the first such incident for a number of years.
The trust said it had taken the "very unusual step …due to a lack of beds in Basildon Hospital". It followed the trust being on 'black' alert for more than a week.
A trust statement added: "The trust has been unable to discharge enough patients to meet the demands of new patients arriving in A&E. An internal critical incident is a step up from 'black' alert."
The move followed nearby Southend University Hospital FT declaring an internal critical incident at the beginning of October, in the latest indication of mounting pressure trusts in the patch covered by the south east Essex "success regime" programme.
Basildon "cancelled significant amounts" of elective work and drafted in "non-clinical staff…to support wards and other clinical areas wherever possible" as part of measures to address the bed shortage.
HSJ has asked the trust how many patients were affected, how long patients had to wait for beds and how many operations have been cancelled.
The trust's has struggled against the four hour A&E target in recent years, with performance at 80 per cent against the 95 per cent target for the first quarter of 2016-17.
Trust deputy chief executive Tom Abell said in a statement: "This has been a difficult decision to make. We are well versed in responding to peaks in demand and our dedicated staff rise to the challenge, sometimes working extra hours, sometimes taking on different roles.
"However, the current waiting times for patients in A&E are unacceptable. Despite our best efforts, we simply cannot balance the number of very sick people we already have in our beds with the extra people arriving in A&E, so we need to do something different.
"I would like to ask the public for their understanding and cooperation. If you have an upcoming appointment at Basildon or Orsett Hospital, please arrive as planned unless you are contacted and told otherwise."