With any major service change, consultation, engagement and communication are critical, says Clive Caseley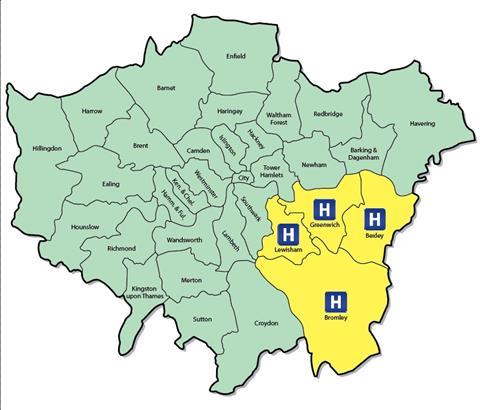 A Picture of Health is London's largest reconfiguration, covering four boroughs
Listening to local people when planning change will lead to better designed services that are easier and more pleasant to use.
Listening and keeping people informed - and being seen to do this - tends to increase the level of trust and confidence
Writing in the Department of Health's real accountability guidance, NHS chief executive David Nicholson, says: "The challenges facing public services in the next few years are considerable and, especially now, we must make sure that services are designed and remodelled around the needs and wants of people. Now is not the time to reduce our efforts or lose our focus on consulting people and communities."
We know that listening and keeping people informed - and being seen to do this - tends to increase the level of trust and confidence. Enhancing the reputation of the NHS with stakeholders and the public means demonstrating a high degree of accountability.
The performance of NHS organisations is increasingly measured in these terms. For primary care trusts to score well in world class commissioning competencies on locally leading the NHS and engaging with public and patients means getting the communications right.
The programme approach
A Picture of Health is London's largest and most complex NHS reconfiguration programme so far, covering the boroughs Bexley, Bromley, Greenwich and Lewisham, involving four hospital sites and community services for more than a million people.
Consultation, communication and engagement are major elements of the programme, and, while it focuses largely on acute services, many of the lessons learned are relevant to any large scale NHS service change - whether by trust, foundation trust, independent provider or PCT.
Community provider organisations in particular may find themselves developing similar programmes, as they move services from acute settings closer to patients' homes.
The main characteristics of the programme were:
Services that really matter to local people, and a proactive local campaign
A high degree of clinical engagement and leadership of the process
The legal framework - a duty to consult under sections 242 and 244 of the NHS Act, compliant with the Government Code of Practice on consultations
A structured process for developing scrutiny and challenge (in this case by a joint health overview and scrutiny committee covering four boroughs, and the Independent Reconfiguration Panel).
Key lessons
Relationships with communications leads are central, and may involve a broader group of organisations than you first think. For example, the four PCTs covering the programme area found themselves working with three other PCTs and three acute trusts in neighbouring areas to align commissioning plans across a wider area, and to provide reassurance needed around capacity.
A critical relationship also emerged with the London Ambulance Service, as changes were proposed to A&E services, which brought a focus on journey times.
A dedicated, central communications team is critical. Continually checking, as plans are drawn up across south east London, that what is being said is clear and consistent, refining messages so that they fit together, and co-ordinating the input of a variety of clinical and management spokespeople has been a major logistical exercise, and the platform upon which the programme stands.
So, too, was making sure that everyone had the capacity and capability to play their part. A networking group was established from the outset, which provided energy and local grounding, and delivered much of the programme within each borough.
The role of the central communications team was to support, co-ordinate messages, and to deliver key elements, such as an information service for the public and maintaining website.
Oliver Lake, the NHS senior responsible owner for communications and engagement, says: "We worked hard to make the case for communications, and were successful in being involved at every level of the programme - from top to bottom, throughout each phase, and at every clinical workgroup."
Internal messages are extremely important, because the NHS is likely to be the largest employer in many areas. "Over the garden fence" conversations with neighbours can have a significant impact on the local debate.
A major element of the programme is engagement with overview and scrutiny and local involvement networks, implemented through a stakeholder reference group, independently chaired but contained within the governance structure, which provides internal assurance on plans to engage patients and the public.
The proposals in A Picture of Health were contentious and raised significant concerns, local clinicians served as spokespeople wherever possible, supported by media skills training.
Finally, everything must be documented. Challenge is likely on a programme of this scale, so prepare on that basis from the outset.
Top tips
Managing programme communications
Listening skills and empathy - cut the jargon
Public meetings - think about formats that will enable everyone to contribute
Understand the politics, and engage politicians positively, even if they may disagree with proposals
Test all materials
Strengthen working relationships within NHS. You will need to rely on others, so maintaining relationships is paramount
Keep people informed, arrange "process" briefing sessions
Internal messages are critical - staff should also be advocates
Target traditionally under-represented groups
Document everything - prepare for challenge
Don't underestimate how time consuming this can be. It needs all hands on deck, so designate a team
In numbers: A Picture of Health
309 meetings with stakeholder groups (111 of these with organisations working with under-represented groups)
4 major public events (almost 700 in attendance)
700k consultation documents distributed to households, businesses, NHS and community organisations
8,000 questionnaires returned
1,306 calls, emails and letters received