The World Health Organization's surgical safety checklist is a valuable communication tool in a high risk environment. Helen Mooney looks at how a simple routine can save lives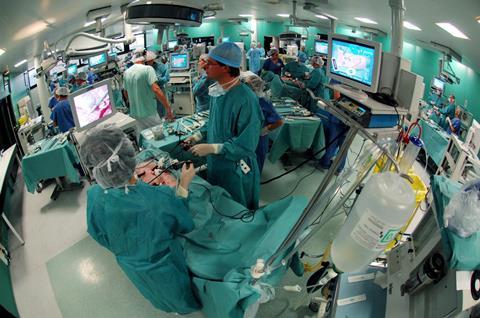 WHO surgical safety checklist: a simple list gives a sure touch
Research has shown that using a simple surgical checklist during major operations can cut deaths by more than 40 per cent and complications by more than a third.
Operating theatres are high risk environments. By using the checklist for every operation we are improving team communication, saving lives and helping ensure the highest standard of care for our patients
In January last year the National Patient Safety Agency issued an alert to NHS organisations requiring them to introduce the checklist - created by the World Health Organization as part of its Safe Surgery Saves Lives Challenge - into their organisations by February 2010.
The goal of the challenge is to ensure adherence to proven standards in all countries.
The WHO checklist has been adapted by the agency for use in England and Wales, and NHS organisations can further adapt it for their own use. It is a tool to improve the communication and teamwork between theatre staff, to deliver safer care and reduce perioperative associated deaths and complications. It focuses on basic good practice before anaesthesia is administered, before a patient is cut open, and before a patient is removed from the operating theatre.
Reduced infections
The checklist can help reduce the incidence of surgical site infections or highlight a patient's need for venous thromboembolism prophylaxis and can help improve the reliability of care.
In 2007, the latest year for which figures are available, 129,419 surgical incidents were reported to the NPSA. More than 1,000 resulted in severe harm and 271 led to the death of the patient.
Former health minister Lord Darzi played a role in developing the checklist and said at its launch in England that the beauty was in its simplicity.
"Operating theatres are high risk environments. By using the checklist for every operation we are improving team communication, saving lives and helping ensure the highest standard of care for our patients," he said.
International Federation of Perioperative Nurses president Jane Reid was one of the nurse advisers to the WHO in the development of the checklist and is perioperative care intervention lead for Patient Safety First.
She thinks one of the most important elements of the checklist is that it provides an opportunity for each member of the surgical team to introduce themselves before surgery starts.
"This is hugely valuable, as it can help to address the hierarchies between professions and can do much to build valuable psychological safety within teams," says Ms Reid.
"By ensuring everybody knows who everyone is beforehand, we are better placed to tackle inevitable day to day challenges. I have had experiences where staff working in surgical teams did not even know each other's names - such situations do not encourage staff to alert people and get their attention if something is going wrong."
Checklist essentials
In implementing the checklist organisations are required to:
Ensure an executive and a clinical lead are identified in order for it to be implemented within the organisation
Make sure it is completed for every patient undergoing a surgical procedure (including local anaesthesia)
Ensure that the use of the checklist is entered in the clinical notes or electronic record by a registered member of the team
Case study: University College Hospital
University College London Hospitals Foundation Trust formally launched the surgical safety checklist in September and has now fully implemented it. Trust corporate medical director Professor Tony Mundy, who is overall lead for the checklist, says all the trust's theatre teams went through checklist training in its education centre's simulated operating theatre.
Best practice at the trust means that for every patient a member of the surgical team runs through a series of safety critical questions out loud, assuring that all staff in the operating theatre are focused on what is required. Staff make sure that for every procedure the surgical site has been marked and that after a patient's operation has been completed essential safety checks regarding instrument, swab and sharps counts are completed.
The teams have also been trained to carry out pre-operative briefings and debriefings as part of the exercise in line with National Patient Safety Agency guidance. Questions include asking whether the surgical site has been marked and whether it has been confirmed that instruments, swabs and sharps counts are complete.
"Each surgical team carried out the training in a mock operating theatre going through three or four scenarios with built-in glitches," Professor Mundy explains. "I think anything that improves patient safety can only be a good thing."
"We are in the process of filming theatre teams at work, checking the list is being used and making sure that continuing training is also in place," he adds.
Professor Mundy says that one of the most noticeable differences the checklist has brought is that communication in teams has improved and team members no longer feel too embarrassed or intimidated to raise questions and concerns.
FIND OUT MORE
Surgical safety checklist briefing
Whatever your role in the NHS, HSJ and sister title Nursing Times's Patient Safety congress this year on 25-26 May in Birmingham is an essential resource www.patientsafetycongress.co.uk