CCGs required to appoint 'conflicts of interest' guardian under sweeping changes to guidance proposed by NHS England
Proposals for the use of tougher legal sanctions on both providers and commissioners failing to manage conflicts of interest
Clinical commissioning groups will be required to nominate a "conflicts of interest guardian" as part of a system-wide overhaul of conflicts of interest policy, NHS England has announced.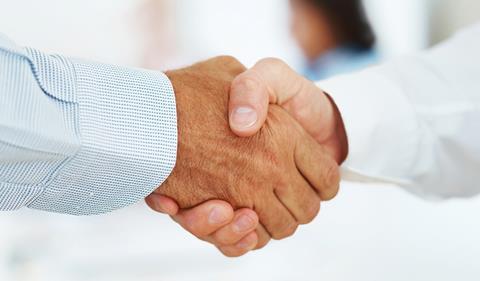 Handshake
Among the changes will be a requirement for a guardian in each CCG to act as a point of contact and expertise on procurement decisions and interaction with commercial organisations.
The proposals will be presented to NHS England's board meeting on Thursday morning, and have been produced to accompany the publication of an audit reviewing conflicts of interest management in CCGs that co-commission primary care.
Other changes include:
requiring CCGs to have at least three lay members on each governing body to better manage conflicts of interest (COI);
mandating commissioners to have "robust" processes for managing breaches in their COI policy – and to publish any breaches on their website; and
the introduction of compulsory online COI training for CCG staff and the workforce in all member practices, provided by NHS England.
Currently CCGs are only required by law to have two lay members on their governing bodies. NHS England said it was aware of the additional financial burden this may have on commissioners.
However, the arm's length body said the change has strong support from CCGs.
Separately, a cross-system "task and finish group", led by NHS England chair Sir Malcolm Grant, will also examine changes to national guidance to beef up safeguards against decision making "tainted" by conflicts.
A key proposal to be considered by the group is the introduction of tougher legal sanctions against organisations that display an "ineffective" management of conflicts.
These could include fines under criminal law; challenges to organisations using civil law; regulatory sanctions – including health professionals being prevented from practising; or staff being dismissed for non-compliance.
NHS England is also considering inserting a new clause in the NHS standard contract requiring providers to disclose and publish more complete information in relation to gifts, hospitality and conflicts of interest associated with delivery of services under the contract.
The revised guidance will be put to consultation in April.
NHS England is also this morning publishing an audit commissioned last September reviewing COI management in CCGs that co-commission primary care. The review, carried out by consultancy firm Deloitte, examined how safeguards set out in existing statutory guidance were operating in practice, using a sample of 10 CCGs.
The report found that guidance published in 2014 had been well received by the CCGs, with examples of good practice found, including GPs "co-opted" from another CCG to sitting on primary care commissioning committees.
However, the audit also uncovered inconsistencies in governance arrangements, with some CCGs not having a clearly defined process for managing COI breaches and some sites demonstrating poor procedures for recording conflicts.
Final guidance is expected to be published by NHS England in June.
CCGs will be required to review their processes in line with this guidance and strengthen them, where required, by the end of November.