Leading heart consultant warns some specialist services could be "destabilised" by plans for national procurement
Changes could have "major impact… on our ability to treat patients"
NHS England says some hospitals are being "taken for a ride" by manufacturers
A leading heart consultant has warned that some specialist services could be "destabilised" by plans for national procurement of high cost devices.
NHS England is in the process of developing a single purchasing and supply chain for a range of devices, including specialist pacemakers and implantable defibrillators. It says this will help tackle wide variation in the prices being paid, as some hospitals are being "taken for a ride" by manufacturers.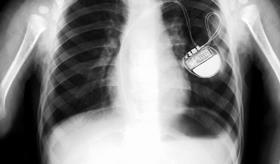 However, Professor Nick Linker, president of the British Heart Rhythm Society, has warned the move "will have a major impact on service delivery and ultimately on our ability to treat patients".
In an email to BHRS members, seen by HSJ, he said: "I believe this will have major implications for cardiac rhythm management services where these devices often subsidise other parts of the service and facilitate equipment purchase, eg: 3D mapping systems. It is likely this could destabilise CRM services in some trusts.
"This process has been undertaken with minimal clinical involvement. I have been the only clinician involved in the 'discussions' and I voiced my concerns that no other options, such as a price cap on the amount claimed, would be considered. How the process will actually be implemented is not clear to me."
He said a new "zero cost option" has begun being implemented this month, whereby a yet to be decided central supply chain partner will supply trusts directly, with no transfer of funds.
High cost devices are not covered by the national tariff, and until now have been purchased locally by trusts. They have often been bought as part of a package that could include a combination of consumables, training and education – with trusts then reimbursed for the full costs.
Professor Linker, also a consultant cardiologist at South Tees Hospital Foundation Trust, told HSJ the new system will only supply the devices, leaving trusts to foot the bill for consumables through the tariff, and manufacturers potentially withdrawing crucial training and support.
He added: "The cost of the device and the tariff income doesn't necessarily add up to the total cost of carrying out the procedure.
"I can see a situation where manufacturers will say they're not going to invest in innovation and new devices in England, and we're already quite far down the league table in terms of these services."
He said 57 trusts will initially be included, while existing contracts which have a few months to run will still be honoured.
He also raised concerns about new incentive payments for providers to use more "medium/standard specification" devices, describing this as "meaningless term" and saying the measure was "unworkable".
NHS England disputes Professor Linker's claims that he was the only clinician involved and that other options were not considered.
A spokesman added: "Data now available to us clearly prove that different hospitals are being charged dramatically different prices for identical high cost devices by the same manufacturers, who selectively bundle in other elements to obscure the fact that the NHS is being taken for a ride.
"What's more, these inflated prices have then just been charged on by hospitals to NHS England for so called pass through reimbursement.
"This is just another example of the wasteful procurement that Lord Carter has demonstrated in many similar areas. That's why greater consistency in national procurement combined with more transparent 'sunshine' and conflict of interest protections are being rolled out across specialised services."
Nationally, around £200m is spent on cardiac devices each year, with specialist centres spending around £10m.