The majority of clinical commissioning group leaders do not believe proposed ratings for CCGs will lead to better commissioning and standards of services, the latest HSJ CCG Barometer has found.
Health secretary Jeremy Hunt announced the development of "Ofsted style" ratings for CCGs in a range of clinical areas at the HSJ annual lecture in October. The ratings for each area would be based on data and "verified by experts" in each field.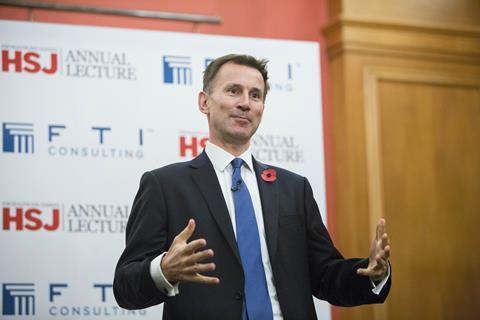 The barometer, in association with Capsticks, asked leaders what the proposed ratings could lead to. Forty-six leaders took part in the survey.
Ninety-six per cent of respondents said they would not lead to better commissioning; 91 per cent said that they would not enable faster service transformation; and 89 per cent said ratings would not lead to better standards of services or stronger public and patient choice.
Forty-two per cent thought the ratings would lead to more public awareness but only 33 per cent said they would lead to poor CCGs losing their responsibilities.
When asked to explain their views on the proposed ratings, one CCG leader said: "It will measure the wrong things, undermine progress and local responsibility, and penalise CCG's for outcomes that are determined by factors outside of their control."
Another said: "CCG assurance has not been a driver for improvement to date, so I lack confidence that this process will produce improvement or change."
North East Lincolnshire CCG clinical chief officer Peter Melton said: "A lot of CCG feel that it is a little bit old school and part of the original aims of the reforms was to be much more transformational an empowering. The risk is that the focus is on those old school measures and performance measures and actually could become a barrier and a distraction to some of the more radical things that need to be put in place."
Dr Amanda Doyle, NHS Clinical Commissioner co-chair and Chief Clinical Officer of NHS Blackpool CCG said: "No one underestimates the challenge of transforming our health services but CCGs are more than capable of undertaking this task. To do so however we must be allowed to focus on our role of transforming health services for our local people, rather than being diverted by narrow short-term priorities imposed from the centre, as is currently the case".
Dr Steve Kell, Chair of NHS Bassetlaw CCG also said: "CCGs have proved that they can operate within their budgets and manage their finances to support other parts of the system, but increasingly they find themselves struggling with an ever-growing bureaucracy, a financial system that does not meet their needs and an oppressive monitoring and reporting process, often insensitive to the local context"
The Department of Health has been approached for comment.
HSJ also asked CCG leaders to rate their interactions with various groups. Thirty-nine per cent of respondents rated their relationships with system regulators as unhelpful, very unhelpful or bullying, while 41 per cent were neutral.
Ninety-six per cent described their interactions with member GP practises as either very good or good.
Only 13 per cent of respondents said that they had good interactions with the NHS England national team. Twenty per cent said they had no relationship and 41 per cent were neutral.
CCG Barometer: Leaders call for merger 'ban' to be lifted
1

2

Currently reading

New ratings will not lead to better commissioning, say CCG leaders

3

4