Widespread vacancies in the clinical reference groups established by NHS England to link specialist and non-specialist services have led to a deterioration in patient experience, it has been alleged.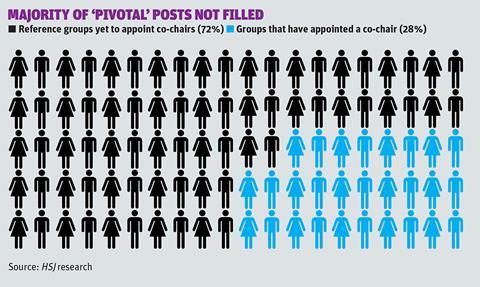 Majority of 'pivotal' posts not filled
The claim follows HSJ analysis revealing that almost three-quarters of the 75 reference groups are yet to appoint a co-chair, more than a year after they were set up.
Co-chairs are expected to play a "pivotal" role by drawing up strategies to connect with care pathways outside of specialised commissioning, according to NHS England guidance. Non-specialised care is commissioned by clinical commissioning groups.
HSJ's analysis of data from NHS England's website also shows that half of all positions for patient and carer representatives remain unfilled, with 45 per cent having no lay representative at all.
Reference groups are also supposed to include a clinical representative from each of the 12 clinical senate areas in England, with an extra two members expected to be appointed from the London senate area. A quarter of these posts were vacant in 12 of the 75 groups, including those focused on burn care and paediatric surgery, according to our analysis.
Mental health and cancer charities said the effect of empty posts was reflected in patient experience.
Mike Hobday, director of policy and research at Macmillan Cancer Support, told HSJ that "broadly speaking" collaboration between specialised commissioners and clinical commissioning groups "happens nowhere".
He linked the high vacancy rates to deteriorating performance in patient waiting times for cancer treatment.
Mr Hobday said: "There is an increasing tendency for the 62-day wait target to be breached and the reason that happens is challenges in relationships between a [district general hospital] and a tertiary cancer centre due to a lack of close relationships between CCG commissioning and specialised commissioning."
Stephen Dalton, chief executive of the Mental Health Network, said there were "no incentives in the system to manage the pathway of care for patients" in a cost effective way.
This had made it difficult to repatriate patients to community services commissioned by CCGs from out of area inpatient mental health beds commissioned by NHS England.
The chair of one clinical reference group that commissions services for a long term disorder told HSJ it was unclear how specialised services commissioning related to CCG services.
"It strikes me that the specialised commissioning system is designed for one-off high-tech interventions like cardiac surgery and bone marrow transplants," he said. "But actually for long term disorders where you need collaboration it's just not there at the moment and it's having to be reinvented."
One clinical reference group member said that the absence of any funding for clinical reference groups "didn't help" recruitment.
The groups do not receive any funding for meeting rooms or administrative support and members' travel expenses are not reimbursed.
Charlotte Beardmore, director of professional policy at the Society of Radiographers and a member of the Radiotherapy Clinical Reference Group, said there was "only a limited amount of work" the group was able to do without any funding.
"The society has been able to offer rooms for meetings but not all [clinical reference groups] are lucky like that," she added.
Sally Brearley, outgoing chair of the specialised commissioning patient and public engagement group, said many of the patient and carer vacancies had recently been filled.
However, she said NHS England needed to do more to support lay representatives and hoped the specialised commissioning taskforce set up by NHS England would address this.
A spokeswoman for NHS England said not all CRGs needed a co-chair and all of NHS England's area teams had "arrangements to consider whole pathway issues in their locality". She said CRGs were funded by providers of specialised services when they released their consultants to take part in CRGs under the supporting professional activity time in the consultant contract. Patient and carer members were reimbursed for their expenses, she added.
Paul Watson, NHS England regional director for Midlands and East, who is currently overseeing specialised services, said:
"The creation of our 75 CRGs has been one of the most ambitious clinical engagement exercises ever carried out in the NHS. It has also been a real success story in the terms of the numbers of patients and carers that have been able to have a real impact on specialised services."