Assessment and improvement framework seeks to implement Jeremy Hunt's CCG ratings plan
54 assessment indicators proposed by NHS England
Framework "supplies metrics for adoption" in sustainability and transformation plans, which will "provide vision and local actions" for framework
HSJ survey found majority of CCG leaders do not believe framework will lead to improvement
Evaluation and implementation of health system "sustainability and transformation plans" will play a big part in the new "Ofsted style" ratings for clinical commissioning groups, according to new proposals.
NHS England has published plans for the 2016-17 CCG assessment and improvement framework, and has invited suggestions for improving them.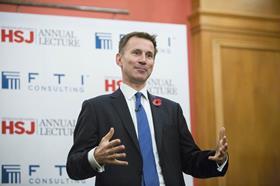 The proposals would implement the health secretary's requirement that CCGs are given "Ofsted style" ratings, both overall and for each of clinical areas. These are: cancer; dementia; learning disabilities; diabetes; mental health; and maternity, as announced at HSJ's annual lecture in October.
The document sets out 54 assessment indicators CCGs will be rated on. Information will "be available at least quarterly for nearly all of these metrics", it says. Indicators are grouped in four categories:
better health (population health and wellbeing);
better care (performance, care quality and care redesign);
sustainability (finance); and
leadership (quality of leadership, planning relationships and governance).
One of the quarterly indicators is "agreement and delivery of sustainability and transformation plan".
National planning guidance for 2016-17 requires NHS organisations to form planning footprints for their health system and produce joint STPs by June. It says access to transformation funding from April 2017 will be dependent on the strength of these plans.
The CCG assessment framework proposals say: "The new CCG improvement and assessment framework has been designed to fit with the forthcoming [STPs].
"It supplies metrics for adoption in those plans as markers of success. In turn those plans will provide vision and local actions that will populate and enrich the local use of the CCG improvement and assessment framework."
The framework proposals also say it will not focus solely on CCGs. The document says: "The NHS can only deliver the [Five Year Forward View] through place based partnerships… To ask CCGs to focus solely on what resides exclusively within their own organisational locus would miss out what many are doing, and artificially limit their influence and relevance as local system leaders. In both the CCG [framework] and [STPs], we give primacy to tasks in common over formal organisational boundaries."
Oxfordshire CCG chief officer David Smith, commenting on the ratings, told HSJ: "It is helpful to have an assessment in terms of what we are doing. Generally [the ratings] have to be welcomed." However, he added: "It will be important what happens when ratings are published because the danger is that people start producing league tables. Then if you end up at the bottom the inference is that people are not up to the job."
In an HSJ survey of CCG chairs and chief officers in December, a large majority said it would not lead to better commissioning; not enable faster service transformation; nor lead to better standards of services or stronger public and patient choice. On respondent said: "It will measure the wrong things, undermine progress and local responsibility, and penalise CCG's for outcomes that are determined by factors outside of their control."
Exclusive: Advisers on Hunt's CCG ratings may seek delay
1

2

Currently reading

Transformation plans central to 'Ofsted style' CCG scores