Swipes are taking place in the House of Lords and our shock as NHS England board members decided to start riffing on economic jargon.
The HSJ100 – HSJ's annual countdown of the most powerful people in healthcare – had a prestigious mention in the House of Lords just before Christmas, with Labour peer Lord Hunt congratulating Conservative Lord Howe on his ranking as 29th most influential person in the sector.
Lord Hunt also took the opportunity to ruefully point out his own lower place, at 95th, and took a swipe at Conservative campaign adviser Lynton Crosby, who was 50th on the list.
'No doubt the debate continued amid festive drinking in parliamentary watering holes'
Lord Hunt asked Lord Howe whether Mr Crosby's ranking "reflects the rather close relationship between the Conservative Party and the drinks industry – and does that explain the outrageous delay in the publication of the chief medical officer's review of what safe levels of drinking should be?"
Howe responded: "My Lords, I am sure the noble Lord would not expect me to agree with him on the position of Mr Crosby in relation to the drinks industry.
"We feel it right to engage with the industry because it is in a position of influence over consumers and we have seen, through the responsibility deals, some real progress, which was instigated at our prompting."
No doubt the debate continued amid the (responsible) festive drinking in the parliamentary watering holes.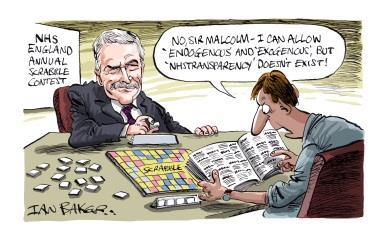 Scrabbling for answers
Transparency is key in the modern health service, and NHS England wants you around the table when the big life saving decisions are being made. This is the message its leaders have been pushing for some time now, so you'd think their monthly board meetings would provide the perfect platform to demonstrate that it is the "commissioner of the people".
We were left slack jawed, however, when NHS England board members decided to start riffing on economic jargon during their December meeting.
The thorny issue of accident and emergency performance had surfaced and deputy chair Ed Smith – usually reliable for making pertinent interjections – instead thumped us around the head with a question on "endogenous" factors contributing to the dire state of A&Es at the moment.
Before we could recover a second onslaught descended. Here we had hoped that man of the people, jargon buster and NHS England chair Sir Malcolm Grant would burst the bubble, at the very least because that is the sort of thing a chair does. But instead he gleefully joined in, pondering whether the A&E issues were "endogenous" or "exogenous".
End Game would have dearly loved it if at this point board member Ian Dodge had cried "Who? Me?" and did a little dance, but there was no such joy.
We were desperately looking around the room for the clear light of day, but transparency there was none.
It was all topped off with "endogeneity", at which point the board members snickered while End Game sobbed.
Piste off
As the man paid by the NHS provider sector to champion their interests, it is important that NHS Providers chief executive Chris Hopson has clout.
However, Mr Hopson hinted on Twitter that this power might have been a tad misdirected on a recent family skiing jaunt: "Short pre Xmas ski holiday going well then… managed to knock over distinctly unamused ski
instructor on first afternoon! #embarrassingdad"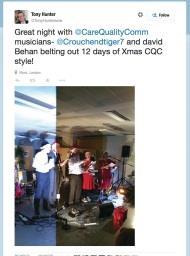 Quality vocals
End Game's cockles were warmed by a photo of the leading lights of the Care Quality Commission, festively attired and singing their hearts out.
The photo (left), posted on Twitter, features CQC chief executive David Behan and chief inspectors Sir Mike Richards and Andrea Sutcliffe, apparently belting out the 12 Days of Christmas.
End Game was not present, so we do not know if the vocal ability of the CQC choir "requires improvement".
But we'll give them an "outstanding" rating for their evident enthusiasm.