When Tim Kelsey was likened to Kate Moss and a snake hissed its way out of a university
Minister for life sciences George Freeman is almost certainly going to be on Tim Kelsey's Christmas card list, or he should be, after recently introducing him at a conference as the "Kate Moss of digital health".
NHS England's outgoing national director for patients and information (he is leaving for Australia next year) was clearly jolly pleased with the comparison and chose to weave it into his farewell speech at the EHI Live conference in Birmingham this month.
To put Mr Freeman's colourful comparison in context, he was at a conference in Milan, a city synonymous with the fashion industry, so he was trying to draw an analogy to resonate with the locals. The Croydon born supermodel is doubtless a household name in fashion, just as Teekay is in digital health.
'We sincerely hope the minister was not implying he was in the same league as Kate Moss'
Ms Moss has also established a reputation as a bit of a rock 'n' roll tearaway who likes to party hard. While Mr Kelsey has a penchant for a party, we sincerely hope the minister was not implying he was in the same league as Ms Moss.
If he was, End Game demands a ringside seat next time the pair are out on the razzle in Milan. We'll rest up and get plenty of vitamins until we get the call.
Intelligent transparency
End Game was mightily impressed by Jeremy Hunt's recent call for "intelligent transparency" throughout the health service. We therefore admire the honesty of one trust chief executive's decision to "fess up" to a minor IT failure in public.
Paul Jennings, head honcho at Gloucestershire Care Services Trust, took to Twitter to make his admission: "The worst lunchtime horror I committed was a Muller Corner in the keyboard… and my PA caught me in the act. Not deliberate."
Are they up to something?
Keeping with the social media theme, End Game was scratching its head after a tweet from intrepid HSJ hack Lawrence Dunhill garnered attention from an interesting source.
'Mr Dunhill's tweet was liked by none other than an account run by the very CCGs in question'
Commenting on a story about proposals from Manchester acute sector leaders to share more functions, our correspondent wrote: "Radical scaling up of shared services needed in Greater Manchester – could start by merging south, central and north Manchester CCGs?"
Mr Dunhill's tweet was "liked" by none other than an account run by the very CCGs in question. Are they up to something?
A rough climb
End Game is sure many NHS managers are sometimes tempted to vent their frustration with the health service by shouting it from the rooftops. However, a recent case in Cheshire has demonstrated that multistorey shenanigans of this sort can have serious consequences, contrary to what you might have learnt from Mary Poppins.
Adrian Green of Ellesmere Port was convicted this month of a public order offence after clambering on to the roof of the Countess of Chester Hospital in September – a stunt that resulted in a full evacuation of the hospital's Jubilee Day Centre.
Mr Green was eventually talked down by a police negotiator, but just three days later he wasted police resources again by calling out the emergency services to Overpool Railway Station – a move which resulted in him being handed a criminal behaviour order.
PC Graeme Morrison, of Ellesmere Port's antisocial behaviour unit, said that despite "numerous" prosecutions and convictions, Mr Green had continued to place "unnecessary and costly demand on emergency services and healthcare providers".
'He cannot threaten to climb on any building or structure'
The emergency services cannot afford to have their time wasted – as HSJ readers will know, the ambulance service is under particular strain at the moment.
But we were slightly puzzled by the terms of the public order offence issued to Mr Green. Under the order he cannot climb or "threaten to climb" on any building or structure.
Surely these are part of the unspoken set of norms implicit in everyday social relations and don't need to be spelled out in an order? A bit like "not threatening to dig a hole in the road" or "not punching people you meet in the street"?
A snake scare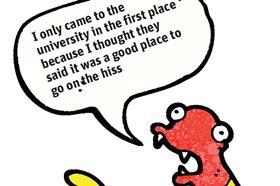 Patients at Guy's Hospital in London would have been well advised to be on their guard recently, after it emerged that a snake had slithered its way out of nearby student digs.
The King's College student paper, Roar News, reported that the 30cm milk snake escaped from the university's Boland House building.
The publication said it isn't the first time an animal has escaped around the campus, as many are used in scientific research.
The one consolation is that the snake is non-venomous, so if it does snap at your heel, don't worry too much.