When NHS England boss Simon Stevens took to the stage at the RCGP conference this month his jokes attracted heckles from far and wide
When Simon Stevens addressed the Royal College of GPs' annual conference in Liverpool earlier this month, his ridiculing of the conference programme was a provocative opening gambit.
'Not content with alienating the GPs in the audience, Mr Stevens then took a dig at the host city'
"I can see that you're all going to be intensely busy with highly relevant topics including primary care in the Amazon, and for those of you who have got nothing better to do at 6.15 tonight, I see that David Wheeler is leading a session called 'clowning for GPs'," the NHS England chief executive jibed.
"So sorry David, I won't be able to make your session, which I see actually is fully booked, it says in the programme - unlike a number of the worthier events, including one that [RCGP president] Mike Pringle is leading, which still has spaces available."
Not content with alienating the GPs in the audience, Mr Stevens then took a dig at the host city. When asked a question about campaigners protesting outside the conference, he quipped: "Isn't that a daily occurrence in Liverpool?" to a chorus of boos.
His speech did acknowledge the need for "substantial increases in investment" in primary care and more equitable distribution of funding. But these remarks were overshadowed by his poorly received jokes. "Simon Stevens" began trending nationally on Twitter soon after his closing lines, but probably not because the internet was buzzing over his ideas for reforming primary care.
Carry on doctor
An extra marital dating site has "investigated" the main reasons why medical professionals in the UK choose to have affairs. As a steadfast guardian of the NHS's moral fabric, End Game will not name the publicity hungry website that sent us the press release. However, we have no compunction about sharing some of their survey findings, which involved over 1,200 members who work in a medical profession.
'Have NHS apparatchiks risk assessed the possibility of their plans resulting in a mass outbreak of staff licentiousness?'
The second most important reason was that "unsocial hours mean that many medical professionals are not able to spend quality time with their partners".
Worryingly, with the push to seven day working this can only get worse. Have NHS apparatchiks risk assessed the possibility of their plans resulting in a mass outbreak of staff licentiousness?
The top reason, however, was apparently "to feel loved". Goodness knows how GPs will react to Mr Stevens' conference speech in that case.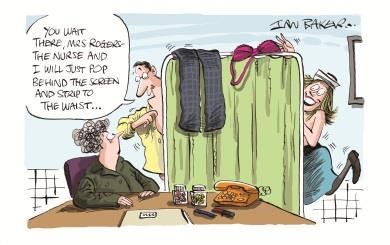 Killer parenting tips
Heard of Frederick Toates? Neither had we until a press release dropped into End Game's inbox promoting his new book How Sexual Desire Works. The good professor has devised a genius sales hook to promote the tome: "how to bring up your son - 18 tips in contradistinction to the early upbringing of sex linked serial killers".
That's right, 18 "simple steps" that "any parent" can take to decrease the likelihood of the apple of their eye growing up to be a "sex linked serial killer".
The tips range from the decent ("don't display any violence within the family"), through the morally eyebrow raising ("keep any of your extra marital activities out of his sight") to the downright perplexing ("beware if your son seems to be in a situation of a physical/psychological vacuum"). Fat chance of the little nipper being in a "physical vacuum" unless he also happens to be an astronaut.
Another pearl of wisdom is to "make sure your warning bells ring if more than one of the following are shown: (a) fire setting, (b) cruelty to animals, especially cats and (c) bed wetting". If he's mutilated the dog but there's no sign of the other two then presumably you're OK.
Jamie Oliver to meet his match?
Labour leader Ed Miliband might have let slip the next target in chef Jamie Oliver's never ending crusade against bad food. According to whisperings during the campaign in the by-election seat of Heywood and Middleton, Mr Miliband said the celebrity chef told him at the Pride of Britain Awards that his next project would be tackling hospital food.
End Game looks forward to the full force of Saint Jamie's righteous fury being unleashed on NHS kitchens, but can't help feeling a degree of scepticism.
The long list of celebrity chefs who have tried to make hospital food palatable – including Albert Roux, Loyd Grossman, Heston Blumenthal and James Martin – suggests he's got his work cut out.