HSJ's Commission on Hospital Care for Frail Older People has published its first report today.
The "scoping report" states the commissioners' ambition to provide practical tools for senior NHS leaders to encourage the adoption of best practice.
The commission was launched last October, and will publish its main report next November. The scoping report published online today says the commission's focus will be on how to ensure older people are cared for in appropriate settings, and making hospitals better places for older people.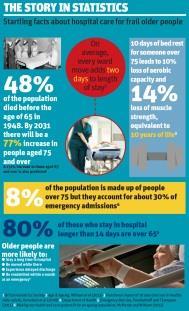 The report offers a checklist for executives, boards and clinicians to self-assess their organisations, and provides tips on how to achieve changes. More detailed checklists broken down by area of the hospital are also available, alongside other resources and an interactive survey to find out readers' achievements made in key areas so far.
The report also invites HSJ readers to visit the commission's website to watch films about the project and share their views, with the aim of compiling and rating examples of good practice in hospital care for frail older people.
The commissioners are Dame Julie Moore, John Appleby, Julienne Meyer, John Myatt, David Oliver and Jenny Ritchie-Campbell.